A Royal Manchester Children's Hospital patient is the first child in the world to receive a pioneering new gene therapy as part of a clinical trial.
GM1 gangliosidosis is a rare genetic condition that results in severe and life-threatening damage to the brain and spinal cord – and for which there is currently no treatment available.
It is a rare but underdiagnosed condition, with approximately one in 100,000 children affected globally.
Sponsored by biotechnology company, Lysogene, the study involves a single, one-time injection into the base of the patient's skull. This injection delivers the 'LYS-GM101' gene therapy directly to the brain, a process which is designed to restore the production of a key enzyme that is missing in people with GM1 gangliosidosis.
The two-year-old patient has travelled with her family from Russia to Royal Manchester Children's Hospital – part of Manchester University NHS Foundation Trust (MFT) – to be part of this cutting-edge research, receiving her treatment dose on 8 June 2021.
Dr Simon Jones, Consultant in Paediatric Inherited Metabolic Disease at Manchester University NHS Foundation Trust and Senior Lecturer at The University of Manchester, is Chief Investigator of the global study.
Dr Jones said: "GM1 is a devastating and rapidly progressing disease, especially in its most severe form, where it causes profound neurodegeneration and early death.
"The treatment of the first patient in this clinical trial represents an important milestone on our journey towards a therapy for GM1 patients and their families – this is particularly important given there are no currently approved treatment options for these children.
"Gene therapy – which replaces a faulty gene or adds a new gene in an attempt to cure disease or improve your body's ability to fight disease – could not only improve the health of children taking part in this research, but also holds promise for treating a wide range of other conditions."
Karen Aiach, Founder Chairman and Chief Executive Officer of Lysogene, said "Dosing of the first patient in this clinical study represents a significant milestone for Lysogene, as it marks the second gene therapy programme from our portfolio to enter clinic. It illustrates once again our ability to execute, despite the recent challenges we faced with COVID-19.
"We are always looking for opportunities to accelerate the development of new gene therapy treatments to improve patients' lives and are excited to bring this investigational therapy to patients with GM1 gangliosidosis."
Metabolic diseases, such as GM1, are rare genetic conditions that affect the body's chemistry. The participant in this study, Stefaniia, was diagnosed very early as her older sister, Sofia, who is five-years-old, also has GM1.
Their mum, Ekaterina, said: "We started the journey when I was still pregnant because our older daughter had already been diagnosed with the condition.
"We were hoping that Stefaniia wouldn't have it too, but as soon as we found out that she does, we started investigating what we could do. It's been such a long journey to get to this point."
Ekaterina and the girls' dad, Maksim, agree that while they know this investigational treatment may not work, they are extremely happy to have been selected to take part in this clinical trial.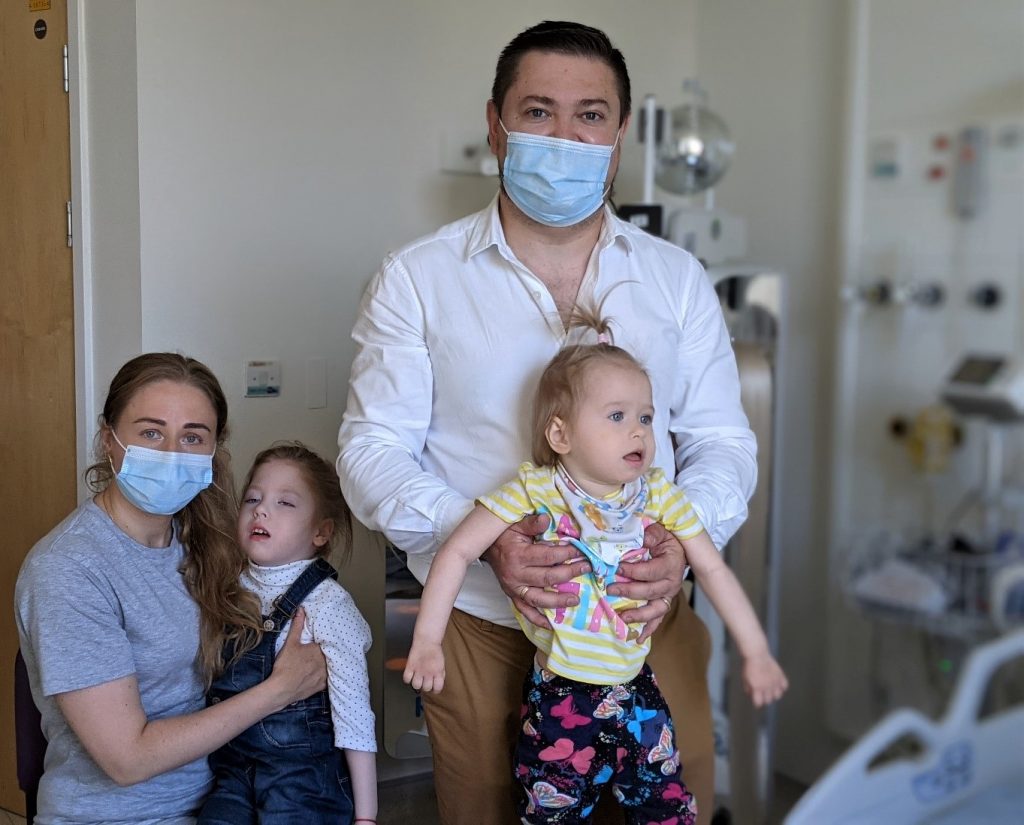 Maksim added: "We would just be beyond happy if the treatment worked. We would be the happiest people on earth."
More about metabolic disease research at MFT
Royal Manchester Children's Hospital and Saint Mary's Hospital – both part of MFT– specialise in developing new therapies for children with rare genetic conditions.
The delivery of these research studies into metabolic conditions is made possible due to the NIHR Manchester Clinical Research Facility (CRF) at Royal Manchester Children's Hospital – where this Lysogene study is taking place. It provides a dedicated space and a safe, quality-assured environment, for delivering early (Phase I and II) research.
In the UK, once investigational therapies like these have passed through the required phases of rigorous clinic trials and are subsequently licensed by regulators, they can be rolled out across the NHS and benefit communities in Manchester and beyond.
NIHR Manchester CRF works in close collaboration with the Willink Unit laboratory at Saint Mary's Hospital – the main diagnostic laboratory for metabolic conditions in the North of England – as well as Manchester Centre for Genomic Medicine, which provides state of the art genetic and genomics testing. All are part of MFT and co-located at the Trust's Oxford Road Campus.
Dr Jones, who is also Medical Director of NIHR Manchester CRF at Royal Manchester Children's Hospital, added: "Within our CRF and our host Trust, MFT, we aim to give as many patients as possible the opportunity to influence, design, and take part in clinical studies and evaluations.
"They are regularly the first in the UK – and often the world – to trial new treatments and procedures, which is something we are immensely proud of and is testament to the efforts of our multidisciplinary team."