An opportunity like no other. It's all here for you to explore meeting the health and wellbeing needs of a population of 750,000 people is an immense challenge. But at Manchester University NHS Foundation Trust (MFT), it's a challenge we're more than equipped to meet.
As England's largest NHS Trust, we're creating the most exceptional integrated health and social care system that will deliver the best possible results for the 1million+ patients who rely on our services every year. Bringing together hospitals and community services from across Manchester, Trafford and beyond, we champion collaborative working and a culture of continuous improvement, and we encourage our 25,000 staff to pursue their most ambitious goals. We set standards that other Trusts seek to emulate – and in the process, our people benefit from a scale of opportunity that is nothing short of exceptional.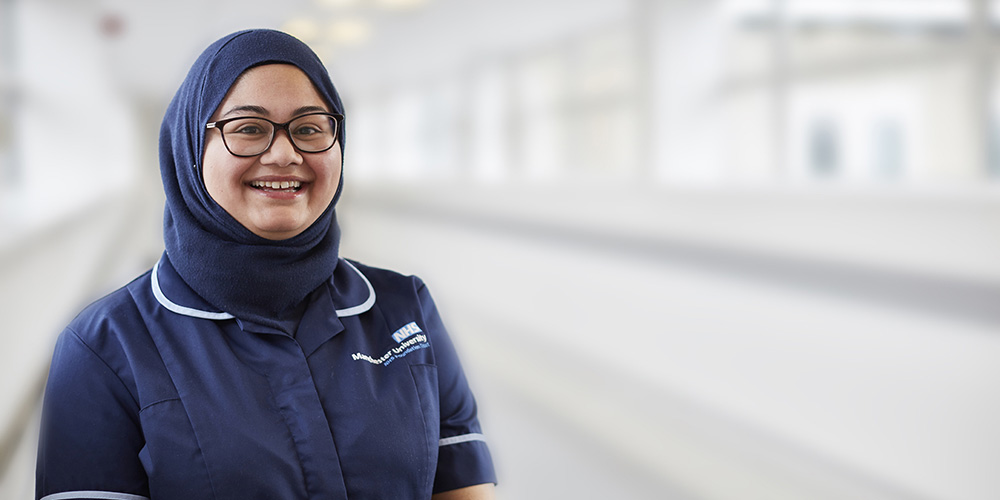 The chance to be your best – and help us deliver renal services of the future
We currently deliver haemodialysis treatment to over 500 patients, comprising of an award-winning dialysis programme that is delivered both within our hospitals, and via an ambitious home therapy strategy.
The Manchester Royal Infirmary (MRI) hub is an integral part of this service, as it delivers acute dialysis to inpatients on the Acute Kidney Unit, and it provides outreach dialysis to other wards and departments. We currently have five units, each staffed by around 20 exceptional staff, and all permeated by the friendliest environment imaginable. And now we're about to go even further. At an exciting moment in our development, we are expanding our service to implement a bold new model of acute dialysis, so we're looking for Band 5 Nurses and Band 2 Support Workers to join us. So whether you want to specialise in a specific area or work across the whole spectrum of renal care, it's all here for you to discover at MFT.
Many renal services provide these facilities on an independent basis, but we are remodelling the whole service so that staff can work across both teams if they prefer, and patients will benefit from a joined-up approach. How you embrace this shift in delivery is up to you. Choose to specialise in a specific area of dialysis or opt to rotate across whole service including transplantation.  Whatever you decide on, we'll help you build the skills you need to excel.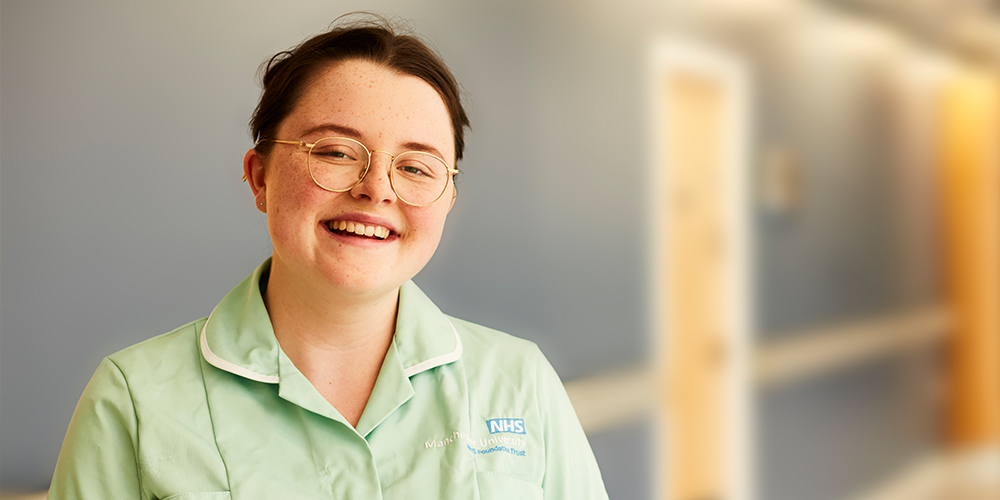 Find more ways to progress
Job satisfaction, plenty of development opportunities, a great work/life balance and the chance to work at your own pace. We know it's a big claim to make – so we want you to hear it direct from our incredible team. These are their words, not ours: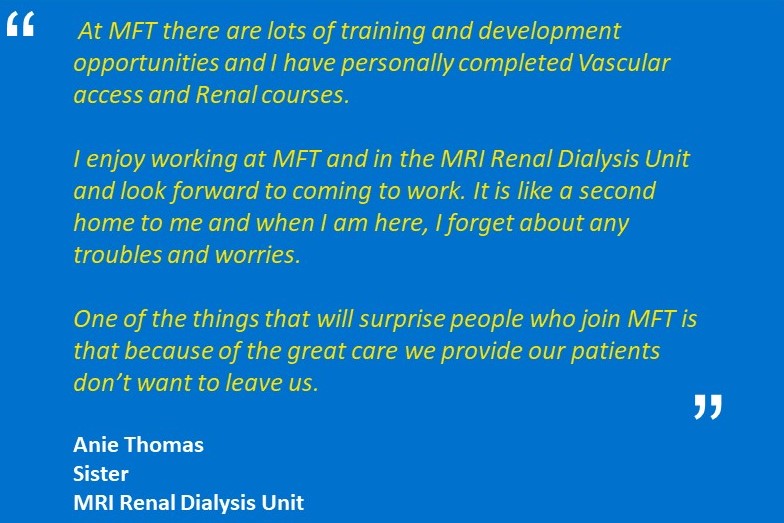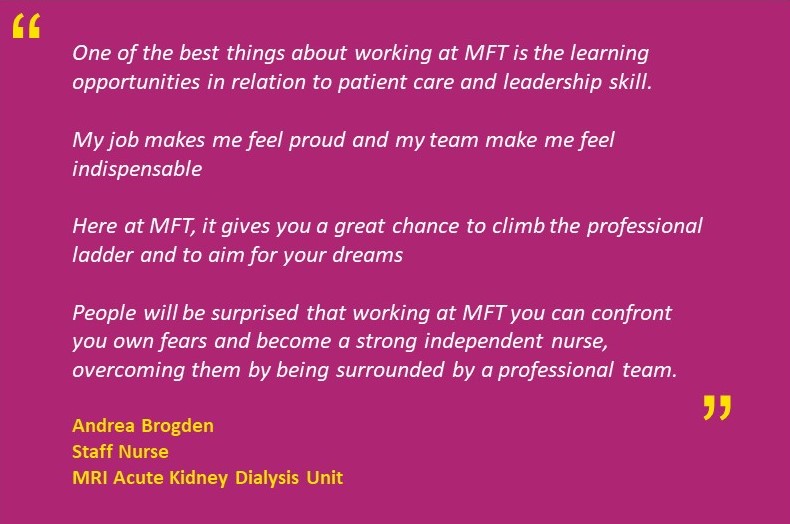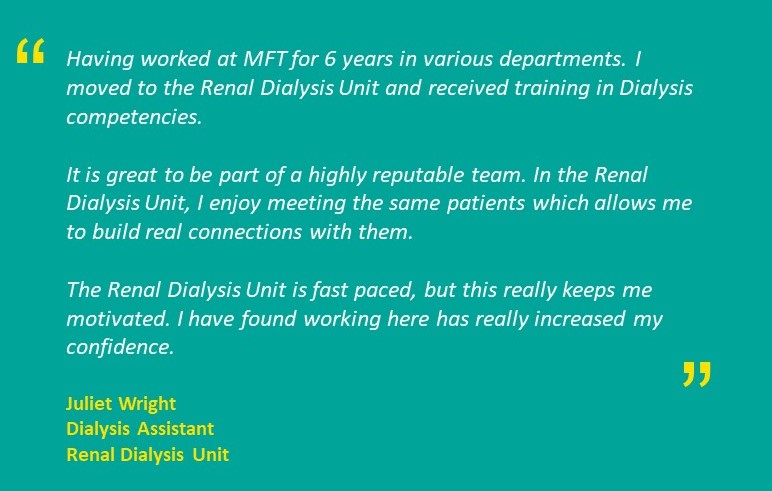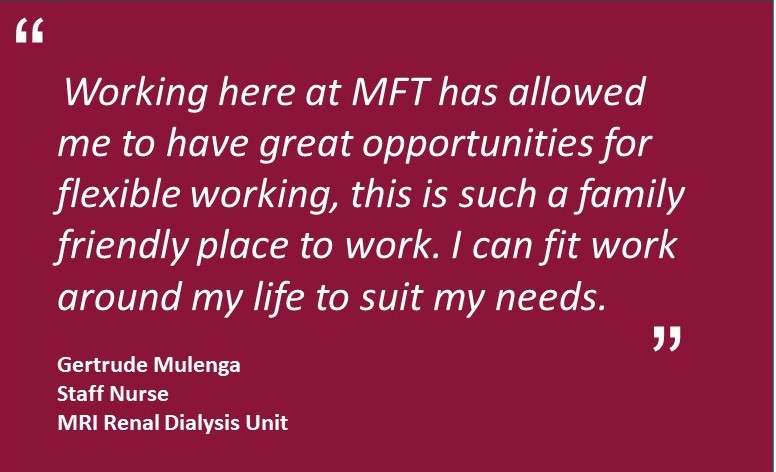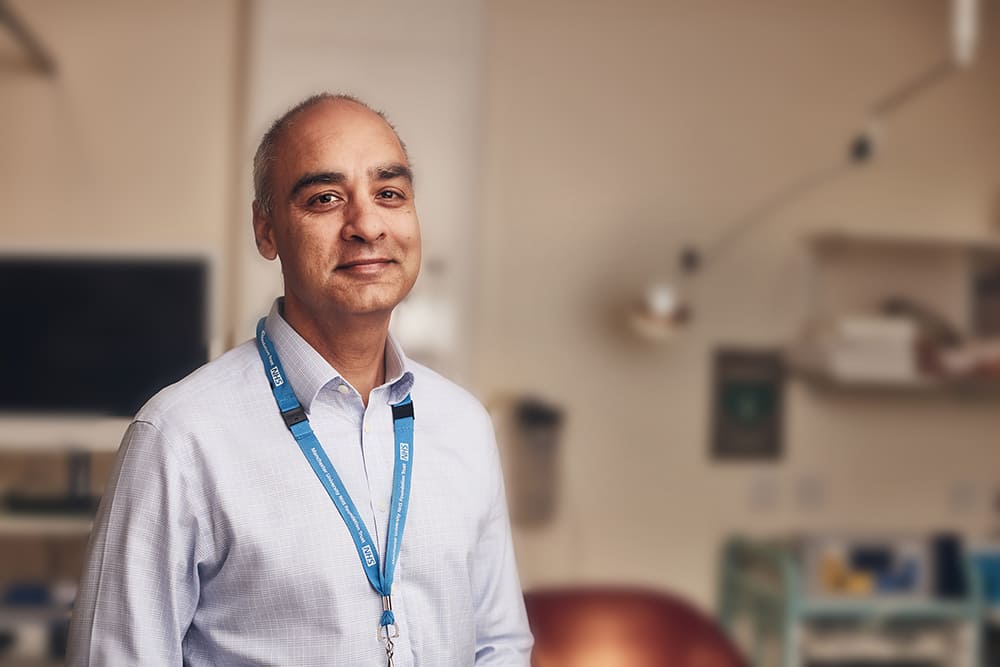 Our recruitment process is all set for you
Applying with us is simple and straightforward.  Read on to get some top tips to consider before you press 'apply'.
Before applying
Before applying, it's important to read the job description and person specification for the role you're interested in and decide if your qualifications, skills and experience are well suited to our requirements.  After all, this is what we will be using to make an informed decision about those candidates we progress to the next stage.
You'll then need to submit an online application. This should tell us about your education, key achievements and qualifications plus your relevant skills and experience (both work and non-work related if relevant). But it's also an opportunity to tell us about why our transformation excites you and what you hope to gain by joining us.  Instead of just listing tasks you do or have done in a job, think carefully about communicating strong examples that really demonstrate to the person reviewing your application how closely your skills and experience match up with the key factors of the person specification. Remember, most person specifications have a series of 'essential criteria' so as a matter of course, recruiting managers will look to determine who matches this closely, but also, even better if you meet the essential and some or all of the 'desirable criteria too. That's what might help you stand apart from other applicants.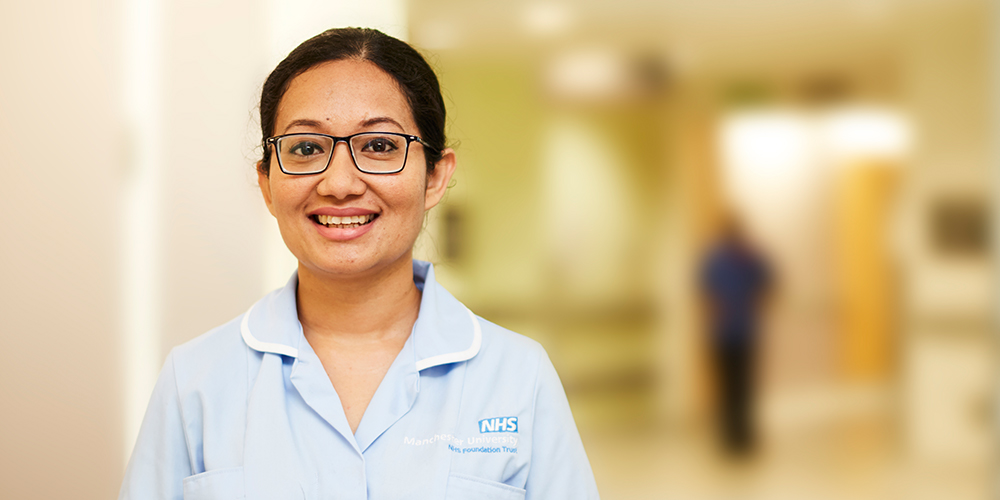 More than anything, take time to think about your application and if you've applied before, don't just re-submit the same application for another role – each attempt should be well thought through and be tailored to the skills, experience and knowledge required for the role you're applying for.
Post shortlisting & progression to selection
If you're shortlisted for a role you apply for, you'll be contacted by our Recruitment Team via email and they'll inform you about the selection process.  This will vary according to the role but typically this process will be carried out virtually via MS Teams so you'd need to ensure you have a device or access to a device that would allow you to use this.  If you don't have MS Teams installed, please use click here to download it: https://www.microsoft.com/en-gb/microsoft-365/microsoft-teams/download-app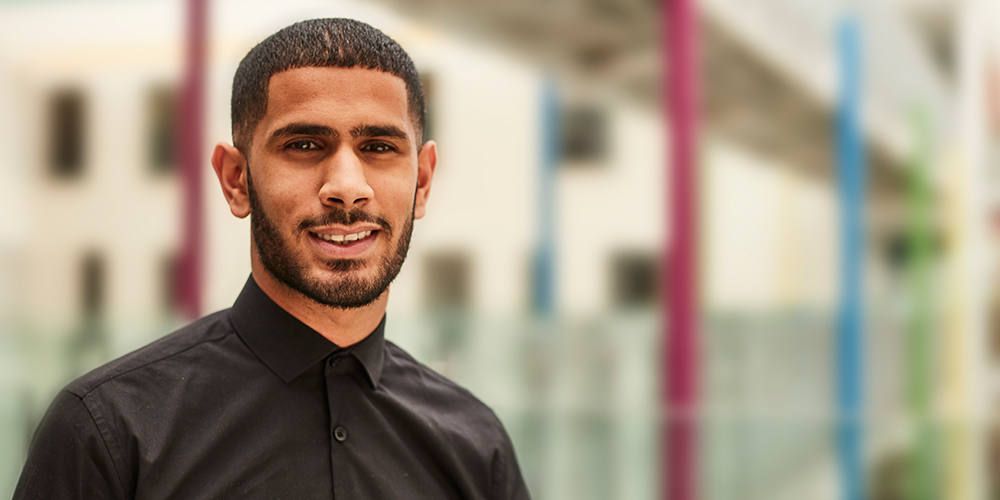 One last thing
This is your chance to take on the career you deserve. To build a better future for renal patients. And to help us embed standards that will be emulated across the NHS.
We want you to feel valued and to excel in our team. So if you are keen to progress, and you are ready to embark on the most ambitious learning curve, then you will find it is all here for you to discover at MFT.
To join us on this mission, simply click the button below. This will transfer you to our Applicant Tracking System (TRAC).