Manchester University NHS Foundation Trust (MFT) are bringing forward proposals for a purpose-built Community Diagnostic Centre (CDC) at Withington Community Hospital.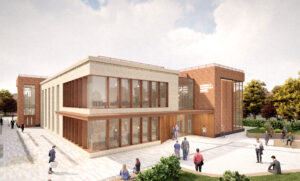 The new centre would represent a record £14.2 million investment in the site to date and would deliver vital diagnostic services in the heart of the community. The CDC would improve access to a range of checks, tests and scans away from major hospital sites whilst providing patients with shorter waiting times, along with evening and weekend appointments.
By providing cardiorespiratory and endoscopy services at the proposed CDC Withington Hub, patients would start receiving appropriate treatment more quickly, improving health outcomes and reducing health inequalities in the local community.
The plans will form a full planning application submitted to Manchester City Council in due course.
Why does Withington need a Community Diagnostic Centre?
Withington Community Hospital is already recognised as an established community healthcare facility in South Manchester, which provides a range of non-acute outpatient and diagnostic services.
The existing hospital site already offers imaging services (MR, CT, X-Ray etc). Locating the cardiorespiratory and endoscopy services at the proposed CDC Withington Hub would integrate and streamline diagnostic pathways and will:
Reduce pressure on acute hospitals
Increase the speed in which patients can access tests and receive results
Reduce waiting times and improve the location of test sites
Increase the choice available to patients about where to receive treatment, including provision of care in the heart of their communities
In Manchester and Trafford, more than two thirds of neighbourhoods are more deprived than the English average. This deprivation correlates with poor health outcomes including:
Death before the age of 75 being significantly worse than the English average
Mortality rates being significantly worse than the England average for cancer, circulatory diseases, coronary heart disease, and respiratory disease
Patients disproportionately presenting later and failing to engage with health promotion and disease prevention
The CDC Programme therefore presents an opportunity to deliver diagnostic services in the heart of the local community, providing more person-centred care, reducing health inequalities, and addressing unwarranted variation in care.