Pulmonary rehabilitation provides a seven week programme of exercise and education for patients with a diagnosis of Chronic Obstructive Pulmonary Disease (COPD) and other chronic respiratory conditions, where breathlessness limits their daily activities.
The course is designed to increase activity levels, promote understanding of the illnesses, and encourage active involvement in self-management of the conditions.
Click here for a copy of the patient information leaflet, which has more information about the service and the rehabilitation courses.
You can be referred to the service through Trafford GPs and practice nurses, respiratory consultants from Trafford General and North West Lung Centre (provided patients are under a Trafford GP), and other health care professionals.
Those listed above can refer patients into the service by completing our Trafford pulmonary rehab referral form.
This is provided the patient meets the inclusion criteria for the service.
You can also follow the team on Twitter: @TraffordPRehab
Meet the team: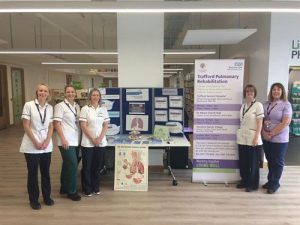 Contact information