Meet some of the colleagues who will be part of the NHS Blue Wave at the Great Manchester Run!
Our second Team MFT member is Biomedical Scientist Claire.
Name: Claire Hart
Role: Specialist Biomedical Scientist (Haematology & Blood Transfusion)
Department: Clinical Scientific Services (Trafford General Hospital)
Target time: Anything less than 1 hour 19 mins (my time last year)
Tactic: To not go out too fast and to just keep going…the support you get from the spectators along the route is fantastic!
Sports hero: Steve Bull (Wolves & England)
Top training tune: Gold Dust by DJ Fresh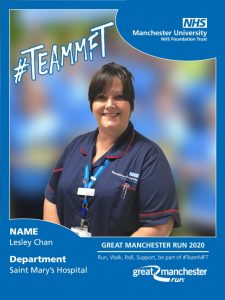 Our first Team MFT member is Lesley, a Matron from Saint Mary's Hospital.
Name: Lesley Chan
Role: Midwife and Matron
Department: Saint Mary's Hospital
Target time: anything less than last year! 1.48mins
Tactic: Slow and steady wins the race
Sports hero: Olivia Chan (my daughter who works at MFT) plays women's football for Curzon Ashton Football Club
Top training tune: Dancing Queen – ABBA
You can join them by signing up here today. It's on Sunday September 26th so there's still plenty of time to prepare and you can run, walk, jog or wheelchair. It's a great way to boost your health and wellbeing! You'll get a special discounted rate of £23 (usually £39), kindly subsidised by the MFT staff lotteries.