Ward 75 is a 28 bedded acute general paediatric admissions and paediatric gastroenterology ward that also support our tertiary care specialities and have a close working relationship to oncology and respiratory patients. We work closely with CAMHS and galaxy house.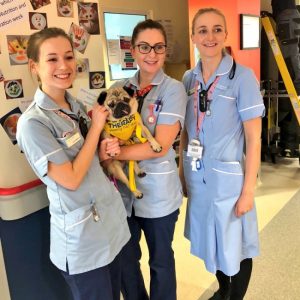 The patients we see are aged between 0-18 years old from a diverse cultural & social population
We see short and long-term stays supporting children who have been previously fit and well together with our regular attenders who have chronic and complex medical needs
We work in close partnership with families and carers as well as external agencies and support an efficient patient flow facilitating admissions 24 hours a day, 7 days a week. We see over 2500 patients per year.
Awards
We won unsung hero award 2017 and our housekeeper Debbie Holt has won the family favourite award and our band 2 team have won the best supporting team award for 2018!
We are currently accredited SILVER and are aiming for gold this year!
Staff
Modern Matron – Kathryn Stanton
Ward Manager – Annabel Simmonds
Junior Sisters/Charge Nurse
Joanne Taylor
Debbie Davies
Natalie Hughes
Lucy Miller
Janine Duffy
Keeley Glover
Faye Wilson
Kate Spence
Clinical Educator
Amy Gray
Location
Ground Floor
Royal Manchester Children's Hospital
Oxford Road
Manchester
M13 9WL
Contact Details
Telephone: 0161 701 7500
Visiting Times
Parents of patients have unrestricted visiting. All other visitors may visit between 1.00 pm and 5.00 pm and again from 6.00 pm until 8:00 pm. The ward operates a policy of protected mealtimes between 12.00 pm and 1.00 pm, and from 5.00 pm to 6.00 pm where all non-essential work stops to allow the children to enjoy their meal in peace and quiet. The main ward lights are also turned off at this time to encourage a quiet environment. Visitors will not be allowed on the ward during these times so please do not be offended if you are asked to leave.
Activities
Ward 75 has a playroom staffed by our Play Specialist Chris Lord. The play room has various activities for children of all ages and abilities. Our Play Specialist is available for distraction and preparation therapies. We have televisions and DVD players available for patients to use. There is also a Wii, play station and an X Box. The children have access to school, Giggle Doctors and Alfie the Dog is a regular visitor.
Facilities for Parents and Carers
We are able to accommodate one parent sleeping by the bedside. We also have a parent's shower room and sitting room.