How Manchester Royal Eye Hospital is protecting patients at our main hospital and across our peripheral sites
During the current coronavirus pandemic we are working hard to protect our patients and staff. We have put a number of changes in place to make sure that patients who still need attend the Manchester Royal Eye Hospital are kept as safe as possible.
Reviewing all our patients
We are reviewing patients to make sure we take the right course of action to look after their eyesight, whilst taking into account their overall health and wellbeing. We will contact patients if we need to get an update from them about their condition or if we need to see them in a clinic.
We are carefully reviewing patients who may have been under our care for some time as well as those newly referred.
Telephone consultations  
We may contact some patients on the telephone where it is clinically appropriate; this could be as part of a follow up after a treatment or to discuss a patient's condition with them. This is another way for us to identify patients who need to come and see us in a clinic.
Please note, calls from the hospital may show as 'unknown caller' or 'withheld number.'
Hospital appointments, only if absolutely necessary
The review of individual patients means a consultant is able to identify which patients need to be seen in the hospital.  Time is taken to decide what is best for each patient. If you are a patient and you are contacted to attend an appointment, this is because a consultant is concerned about your eyes and your eyesight.
For some of our services, we are making use of our treatment centres and clinics across Greater Manchester.
Social distancing in clinics
Only a small number of patients are coming to each clinic, this means that we are able to follow social distancing guidelines in our waiting rooms. We are staggering arrival times and being as efficient as possible in clinic, which means we see you and send you back home much quicker than in the past.
You may see lines on the floor; this is to help measure the distance you should keep between yourself and others. Chairs will be spaced apart or some chairs marked with crosses, so patients cannot sit next to each other.
We have planned our clinics carefully in order to follow social distancing guidelines. Please support us in this by arriving on time for your appointment. If you arrive at the hospital early, please wait and report to the clinic reception desk at the time of your appointment.
        
PPE in clinics
Our staff are wearing personal protective equipment, so they will look a little different at the moment. This is to protect patients and staff. We are still smiling underneath the masks!
All patients will be asked to put on a mask and gel their hands when they arrive at the hospital; masks and gel are available at the main hospital entrance. When you arrive at the clinic, you will be asked to swap the mask for a fresh one.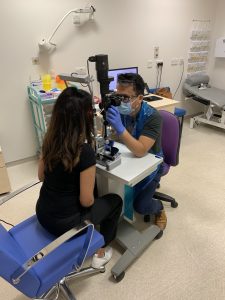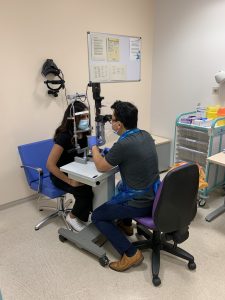 Restricting access to the hospital
We are keeping the number of people entering the hospital to a minimum. Security will be present at the eye hospital main entrance, only patients with planned appointments or attending the Eye Emergency Department will be allowed to enter. The entrance will be open 08:00-20:00.
If someone brings you to the hospital, they will not be allowed in clinical areas, apart from exceptional circumstances.
For children's appointments – wherever possible only one parent or guardian should accompany the child.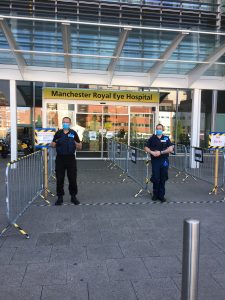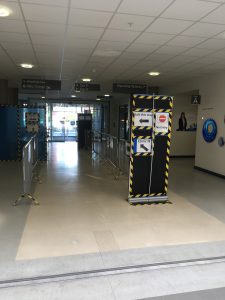 Messages from our doctors
"It is important that our patients with age related macular degeneration requiring eye injections attend their appointments. Delays in receiving injection treatment can cause damage to the macula and long term effects on vision which usually cannot be reversed. We have changed the processes during appointments to reduce Covid related risks for our patients when they attend."
Miss Romi Chhabra, Consultant Ophthalmic Surgeon, Clinical Lead for Macular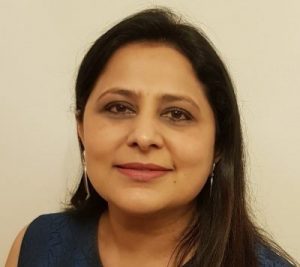 "Maintaining care for your Glaucoma condition is important to ensure you retain your vision, and the Glaucoma Team want make sure you stay Safe and Well at this time. We aim to make our crowded clinics with long waiting times a thing of the past, and we may offer you appointments at new locations you have not visited before. We would encourage you to make every effort to attend these appointments as these will be arranged to make your visit as quick and efficient as possible, whilst maintaining social distancing from other patients.  Please work with us to help keep you Safe and Sighted and attend the appointments we offer you."
Ms Cecilia Fenerty, Consultant Ophthalmic Surgeon, Clinical Lead for Glaucoma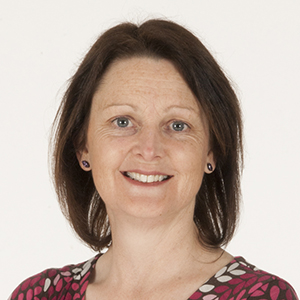 "The uveitis service has made significant changes to the way we now see and treat patients to protect you and keep you as safe as we can. It is very important that we continue to monitor and manage your condition, especially to make sure you are keeping well, that your uveitis is controlled and any complications are detected and treated. This is critical to prevent and treat any sight-threatening problems.
For your safety we need to monitor any treatments you take, particularly if you are prescribed steroid or immunosuppression tablets and injections including monitoring blood tests. For your safety and ongoing care you may be asked by your Consultant uveitis team to attend the hospital (Altrincham or MREH) for review and/or blood tests and we have made major changes to protect you during any visits. If you are shielding you are allowed to attend hospital appointments and our clinics have been re-organised to provide social distancing and keep you safe. Further detailed information is available in the uveitis section of this website"
Read more about the changes the uveitis service has made HERE
Miss Laura Steeples, Consultant Ophthalmic Surgeon, Clinical Lead for Uveitis