Senior leaders from the national New Hospital Programme (NHP) had the chance to see the development work now underway at North Manchester General Hospital (NMGH) during a visit to the site.
Martin Rooney, Head of NHP Sponsorship, together with colleagues David Low, NHP Project Sponsor, and Dan Hancock, NHP Finance Director, met the hospital redevelopment team for an update on progress with the first stages of the hospital site transformation and to discuss key milestones for 2022/23.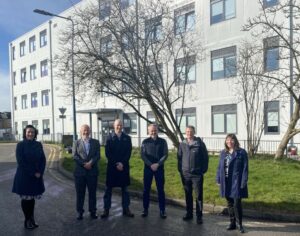 The NHP team then had the opportunity to walk around the site and see the preparations for construction of the new Multi-Storey Car Park and Cycle Hub. They also visited the area where the new hospital will be built.
Michelle Humphreys, Director of Strategic Projects at Manchester University NHS Foundation Trust (MFT), which runs North Manchester General Hospital, said:
"It was a pleasure to welcome our NHP colleagues to North Manchester, to outline our ambitious vision and show them the excellent progress we are making with delivering our new health campus.  This will be an exciting opportunity to provide not only outstanding health and care services but also to bring wider social and economic benefits to the local community."
NMGH is one of eight Pathfinder hospitals being built through the NHP. The new health campus will be at the heart of the community, with joined-up health and social care facilities, high-quality new homes, access to better education and training, and more inviting open spaces.
The government is committed to delivering 48 hospitals across England by 2030, backed by an initial £3.7 billion of investment. These will provide better care for patients, an improved working environment for staff and help the NHS reach its net zero carbon ambition.