Donna Cummings is the Acting Head of Nursing for Critical Care at Manchester University NHS Foundation Trust (MFT). She leads the nursing teams for critical care units across both Wythenshawe Hospital and Manchester Royal Infirmary.
The Critical Care Service provides care and treatment for patients with a range of serious life-threatening illnesses in Manchester, Wythenshawe, Trafford and the wider Greater Manchester area. Patients usually need constant monitoring by highly trained staff.
MFT's critical care services are some of the most respected in the country. In a recent Care Quality Commission (CQC) inspection report; the first since MFT was created in October 2017, Critical Care was rated as Outstanding, the highest rating given by the CQC. The report referenced the team's 'strong patient centred approach' and 'a positive culture that supported and valued staff'.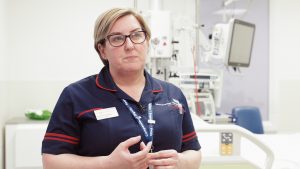 Donna Cummings writes:
"I've been Acting Head of Nursing for Critical Care at MFT since March this year, but I've been nursing in Manchester practically my whole career."
I first trained at MRI as a student nurse, and in 2005 joined as a staff nurse in the critical care unit, which is where the hospital cares for some of our most seriously ill patients. I joined the High Dependency Unit (HDU), which is for patients who are less critically ill than those in the Intensive Care Unit (ICU), but still require constant monitoring.
Since then I've just progressed through the ranks, from Senior Sister for HDU then Matron then Head of Nursing
In that time I've learnt many things. One of the most important that I tell to all our nurses is to always ask questions. It's better to ask a question than to be in the dark. I say that to all the new starters.
As you get more experienced, develop your clinical skills and see and do more things I think it's important to remember what it's like for the newly qualified staff because nursing can be daunting, not just in critical care but anywhere. It's important to remember that and support people.
In fact I think that's one of the most important things in the nursing profession; to support your colleagues and trust that they're supporting you. It's only with a support system like the one we've built here that you're able to thrive and to cope with the pressures that the role can sometimes bring.
We manage a big team here. It's over 300 nurses managed by myself, our matrons and ward managers, so one of our challenges as leaders is to make sure everyone is engaged and involved and that we create a strong sense of community. We need to make sure that despite the pressures we sometimes encounter, our nurses enjoy coming to work and are able to depend on each other.
So one of the ways we do this is to create an environment of inclusion where everyone feels emotionally supported. We need to be mindful that people can have different emotional reactions to certain events, and that something that might seem minor to me might be a really big thing to a new staff nurse.
To help build this environment we have things like a 'time to listen' event  twice a week, which is a drop in session that any member of staff can visit for any reason – whether they're upset or just have something to say. Even if they just want to let of steam, they can come and talk to us. Sometimes it's busy and sometimes it's not, it just depends what's going on that week.
We also have a debrief after every shift. At 6am and 6pm the nurse in charge will make themselves available to discuss anything that's happened on that shift – every shift of every day.
Things like this help with sad times, which we do of course see in the Critical Care Unit. Sometimes people think that you get hardened to this job but you don't, you just learn how to cope better.
Compassion is a fundamental part of nursing practice, and we always say it's ok to cry; it's perfectly normal for staff to be upset if a patient hasn't recovered despite our best efforts. The nurses don't have to put on a brave face. They can come away and talk openly to colleagues about their feelings.
We also run a lot of staff appreciation sessions, wellbeing events, multicultural awareness days, and a breakfast club once a month at 8 in the morning so those on the night shift can join, and those on maternity leave bring in their children. There's a sense of family here that we're all very proud of.
And this family spirit really means the world when we get good news, like when we found out that Critical Care had been rated Outstanding by the CQC in our first inspection as part of MFT.
When we first got the message in the morning the matrons and I did a walk round to talk to staff, where we surprised them with this fantastic news. They were all thrilled; their reaction was as good as getting the result! Seeing the look on their faces and the pride they felt when they heard that all the hard work they put in day after day had been recognised by the CQC is something I'll never forget.
Knowing that the care we provide to our patients has been judged as Outstanding by the CQC drives us to constantly look for new ways to ensure patients always receive the best experience when they need care in our critical care units."