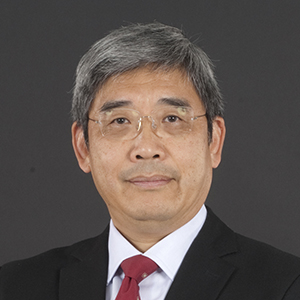 Professor Fred Wu
Professor of Medicine (Endocrinology), Honorary Consultant Endocrinologist, Department of Endocrinology
---
Qualifications:
B.Sc. Hons (First Class) (Edin) M.B., Ch.B. (Edin) M.R.C.P. (U.K.) Accreditation for Higher Specialist Training in General Medicine, Endocrinology and Diabetes (Royal Colleges of Physicians) M.D. (Edin) F.R.C.P. (Edin) F.R.C.P. (Lond)
---
Special Interests:
Reproductive endocrinology, Male hypogonadism, Androgen biology Testosterone replacement therapy, Male fertility regulation, Endocrinology of male ageing
---
Biography
After obtaining an intercalated B.Sc. (First Class Honours) in Medical Sciences in 1970, I qualified in Medicine from the University of Edinburgh in 1972. After house jobs in the Royal Infirmary of Edinburgh and Western General Hospital, Edinburgh, I gained the Membership of the Royal Colleges of Physicians of the United Kingdom in 1975.
I was awarded a Medical Research Council Clinical Research Fellowship with Professor D.T. Baird at the Department of Obstetrics and Gynaecology, University of Edinburgh 1977 -1979 during which I  conducted clinical and laboratory research in oestrogen in males and mechanisms of pubertal development leading to the award of an MD in 1983.
After completing specialty clinical training in Edinburgh in endocrinology, diabetes and general medicine, I undertook post-doctoral research in testicular physiology at Monash University, Melbourne Australia with Professor David de Kretser. On Returning to Edinburgh, I was appointed Clinical Scientist and Consultant Andrologist at the MRC Reproductive Biology Unit where I developed a research programme on hormonal male contraception and undertook seminal work in the neuroendocrine control of pubertal onset.
I was appointed Senior Lecturer in Medicine (Endocrinology), Department of Medicine, University of Manchester in 1994 and subsequently promoted to a Personal Chair as Professor of Medicine and Endocrinology in 2003.
Recently listed amongst Britain's 100Top Doctors (Times Newspaper November 2010), I am acknowledged as an international opinion leader in the field of male reproductive endocrinology and androgens and fulfilled leadership roles in many international professional societies as well as clinical practice guidelines.
---
Research
The aim of my research is to advance the understanding of the physiological control of testicular functions with the clinical objectives of providing:
i) novel reversible methods of male contraception
ii) improved diagnosis and management of male hypogonadism (low testosterone levels) & infertility
iii) Improved quality of life in ageing men.
My research encompasses the full spectrum of basic to clinical aspects of male reproductive functions. I led research on hormonal male contraception to industrial product development. Recent research has focused on endocrinology of ageing in men. I led the largest multi-centre (European Male Ageing Study EMAS) cohort study on the health of ageing in men in the world. My research output has been maintained at the forefront of the field internationally for the last 20 years as evidenced by external grant incomes, publications, invited lectures and clinical practice guidelines.
---
Contact:
Frederick CW Wu, Professor of Medicine and Endocrinology
Andrology Research Unit, Division of Endocrinology, Diabetes & Gastroenterology, School of Medical Sciences,
Faculty of Biology, Medicine and Health, University of Manchester,
Central Manchester University Hospitals NHS Foundation Trust,
Old St Mary's Building, Hathersage Road,
Manchester M13 9WL, United Kingdom
Email: frederick.wu@manchester.ac.uk
Tel: (direct) +44 161 2766330
Fax +44 161 2766363
Academic Secretary: Margaret Lo
Email: margaret.lo@manchester.ac.uk
Tel: +44 161 7012790
Clinical Secretary: Taiwen Chai
Email: taiwen.chai@cmft.nhs.uk
Tel: +44 161 2768751