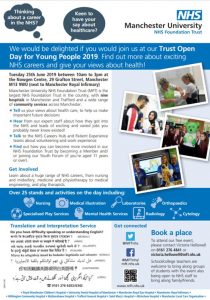 Our tenth Young People's Open Day takes place on Tuesday 25th June 2019. Come along to find out about staying healthy, becoming a Member at MFT, or joining our Youth Forum. You can also find out about exciting NHS careers and give your views about health! The Open Day takes place between 10am and 3pm at the Nowgen Centre, 29 Grafton Street, Manchester M13 9WU (next to Manchester Royal Infirmary).
Manchester University NHS Foundation Trust (MFT) is the largest NHS Foundation Trust in the country, with nine hospitals in Manchester and Trafford and a wide range of community services across Manchester. Each year we hold our popular event for young people (aged between 11 – 21 years) where you can find out more about careers in the NHS and make your views about health care heard.
At our forthcoming event, you'll be able to:
Hear from our expert staff about how they got into the NHS and discover loads of exciting and varied jobs you probably never knew existed!
Talk to the NHS Careers Hub and our Patient Experience teams about volunteering and work experience (if you're aged 16 or over)
Find out how you can become more involved in our NHS Foundation Trust by becoming a Member and/or joining our Youth Forum (if you're aged 11 years or over)
Tell us your views about health care, to help us make important future decisions.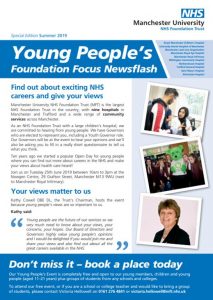 Get Involved
Find out about a huge range of NHS careers, from nursing and midwifery, medicine and physiotherapy to medical engineering, and play therapists. There will be over 25 stands and activities on the day and you can find out more about accident prevention, using microscopes to identify cells, learn more about diseases of the circulation, including veins and arteries and find out ways to beat the bugs that cause infections. You can also participate in the popular interactive activities provided by our orthopaedic plaster-cast team! Click here to see the latest issue of our Young People's newsletter, which provides more event information.
Don't Miss It – Book a Place
Our event gets better each year as a direct result of feedback and suggestions from our young people and we would be delighted if you and your family/friends would join us. To attend our free event, please contact Victoria Hellowell by e-mail victoria.hellowell@mft.nhs.uk or telephone on 0161 276 4841 – click here to see the event flyer which includes a map of the event location.