As a healthcare provider, it is important to us that our membership is representative of the diverse communities that we serve
If you, your family, friends or colleagues are interested in becoming a public member our NHS Foundation Trust, we would be delighted.  Membership is completely free and it's easy to join.  Simply complete a public membership application form – available to complete online:
https://secure.membra.co.uk/Join/MFT
Or use this QR code to take you directly to the online form.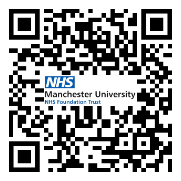 Alternatively, contact the Membership Office if you would like a paper copy:
Post:
Freepost Plus RRBR-AXBU-XTZT
MFT NHS Trust
Oxford Road
Manchester M13 9WL
Phone: 0161 276 8661
(office hours 9.00 am to 5.00 pm, Monday to Friday; answering machine outside these hours)
E-mail: ft.enquiries@mft.nhs.uk
Public Members
As part of the membership application process, you will be asked to supply your personal data, with the Department of Health asking NHS Foundation Trusts to capture information in relation to ethnicity, language and disability status so that we can be sure that we are representing all sections of our communities.  We therefore ask membership applicants to disclose this information during the application process with all information collected being confidential, in keeping with Data Protection Rules and is not released to third parties.  Any data that you supply is used only to contact you about the Trust's Membership or other related matters, and is processed for these purposes only.
Staff Members
We automatically enrol eligible staff as members upon joining the Trust as we are confident that you will want to play an active role in developing better quality services for both patients and staff.  Staff can however opt out upon request to the Foundation Trust Membership Office (details above).  Staff information that is received/collected is treated with the strictest of confidence, in keeping with Data Protection rules, not being released to third parties and is only processed and used to contact you about the Trust's Membership and other related matters.  Please be aware that staff membership information is stored separately to the Trust's Electronic Staff Record (ESR) and if any of your personal details change, please contact the Foundation Trust Membership Office, as well as notifying your Line Manager to update ESR.
Members Taking Action on the Environment
Our Trust has a 'Green Plan' to ensure we play our part in to meet the NHS commitment to be net zero carbon by 2040. To support this, we would like to reduce the amount of paper we use by sending information to our members by email. If you have a valid e-mail address, and are happy to receive information this way, please support us by adding an email address to your membership record/details. You can do this by:
Entering your Member ID* and Home post-code
Inputting your valid email address – your membership record will be automatically updated.
* If you do not know your member ID or you experience any problems registering your e-mail, please contact the Membership Office via e-mail ft.enquiries@mft.nhs.uk
Our new 'Member Portal' – enables you to directly change, update or cancel your Membership
You can now manage all your membership data through our 'Member Portal'.  You can access this (register) by visiting:  https://secure.membra.co.uk/MemberPortal/MFT and inputting the email address you have added to your membership details or have previously provided as part of your application process.  You will then be asked to input your first name and set a password.  To complete the registration process, you will be sent an email with a link to confirm your 'Member Portal' account.
The 'Member Portal' makes it quick and easy for you to view, add or update general information, your communication preferences, and your 'involvement/engagement interests'.  This helps us to make sure that the information we provide to you is tailored to your interests, and your desired level of involvement.
Any changes you make will automatically update your membership record.  You can also cancel your membership should you wish to.
If you are experiencing problems registering to the 'Member Portal', want to update your e-mail address or personal/involvement details, or cancel your membership without using the 'Member Portal', or if you have any other queries, please contact the FT Membership Office:
By E-mail:  enquiries@mft.nhs.uk
By Phone:  0161 276 8661 (office hours 9.00 am to 5.00 pm, Monday to Friday with an answering machine available).