Governor Elections 2019 – Elected Voice of our Members (Public and Staff) and the general public, representing their interests and views
The results of the elections to the Council of Governors of Manchester University Hospitals NHS Foundation Trust (MFT) are now available – please see documents below:
Individual voting sheets for each contested seat are available upon request from the Returning Officer, Ciara Norris at Electoral Reform Services via telephone – 0208 889 9203 or e-mail – Ciara.Norris@electoralreform.co.uk
The full 2019 Governor Election results were formally announced at our Annual Members' Meeting held on 24th September. Visit the Meet our Governors webpage to find out more about our elected and nominated Governors.
MFT Members' Newsletter
The second issue of our members' magazine (MFT News) includes a look at another busy year across all of our hospitals and services, including news of the Care Quality Commission (CQC) rating of Manchester University NHS Foundation Trust (MFT) as 'Good', following the organisation's first inspection since becoming a newly established NHS Foundation Trust in October 2017. Two of our specialist hospitals received an overall rating of 'Outstanding', as did several services.  Hear more from our Governors in the 'Your Governors and Members in action' section and find out some of their highlights from the past 12 months, including our annual Young People's Event.   This issue also includes a look at 10th birthday celebrations across several of our hospitals, a big thank you to all of our Trust volunteers and many more of our achievements across 2018/19.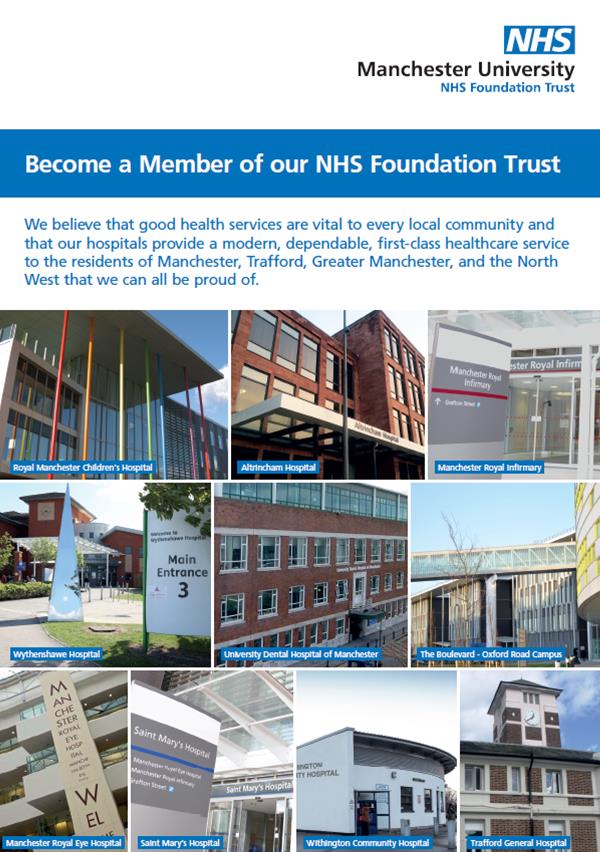 Become a Public Member of our NHS Foundation Trust
We would be delighted if you would consider being a public member of our Trust.  Anyone aged 11 years or over, who lives in England & Wales, can become a member and it is completely free.  Membership application is easy, simply complete a form:
More information about Public membership is on our 'Information for Public Members' webpage.
Staff are automatically invited to become staff members – find out more about Staff Membership on our 'Information for Staff Members' webpage.

Meet our Lead Governor – Jayne Bessant
Jayne Bessant was successfully elected by MFT's Council of Governors as our Lead Governor, with the election results being formally announced at their meeting held on 5th November 2019.
After training as a nurse at MRI, Jayne worked for over 35 years in the NHS and charitable healthcare, latterly working in senior management roles within the hospice sector, her last role being Chief Executive of St Ann's Hospice.
Jayne said: 'The past few years have seen significant change for patients, staff and Governors. This is a crucial time with so many opportunities to further develop the work of the Governors and the positive impact they can bring.'
Jayne will serve as MFT's Lead Governor for a 12 month period of office (ending at the Council of Governors' Meeting in November 2020).