Governor Elections 2021 Elected Voice of our Members (Public and Staff) and the general public, representing their interests and views.
The Trust gives notice that it is holding elections to the Council of Governors of the Manchester University NHS Foundation Trust.  Further details, including Governor seats to be filled, are outlined below:
Governor Elections 2021 – Governor Seats Open for Election
Public Governors
Two (2) Public Governor seats are open in the following Public Constituencies:

Public Constituency Maps

 

Public Constituency
Seats open for election
Rest of Greater Manchester
One (1)
Please click here to see the Public Constituency Map 
Rest of England & Wales
One (1)
Areas that fall outside the above Public Constituency Map Wards, are captured in the Rest of England & Wales Constituency
Please note:  During the current 2021 Governor Election process, there are NO seats open for election in the Manchester, Trafford or Eastern Cheshire Public Constituencies.
There are also NO seats open for election across all four Staff Groups (i.e. Medical & Dental, Nursing & Midwifery, Other Clinical or Non-Clinical & Support Staff Constituencies).
If you are interested in standing for election as a Governor, you need to complete a 'Public Candidate Nomination Form' with the election being run by an independent, external organisation, i.e. Civica Election Services.  Nomination forms can be completed online or obtained from the Retuning Officer, Ciara Hutchinson, via the following ways: 
Further details, including Public Governor seats to be filled can be found on the Governor 'Elections' webpage
Join in the fun with this year's Teddy Toddle
Each year, our littlest fundraisers take on the Teddy Toddle walk surrounded by their favourite teddies to raise money for Royal Manchester Children's Hospital and its young patients.
One of these fundraisers includes three-year-old Iris who took on the challenge last year.
Iris Travis has spina bifida and has endured many operations from just two days old. Iris' parents feared they would never see her crawl – but they were so proud to see her taking brave steps to complete her Teddy Toddle walk for Ward 78.
Iris was helped by her dad as they walked the garden path at their home together, hand in hand, surrounded by all of her favourite teddies and raised an incredible £1,690! Now Iris and her dad are calling on others to take part.
This year's walk takes place during the week of 19th-25th September and is open to nurseries, crèches, playgroups and anyone else who wants to get together to organise one! To get involved, simply choose a date that's best for you and organise a short sponsored walk at a location convenient for you, asking the children to collect a little bit of sponsorship money to take part.
The Charity is asking staff with little ones aged 5 and under to join in the fun with this year's Teddy Toddle walk. Find out more about how you can get involved to support our children's hospital.
To find out more, please visit the website here.

Humphrey's Lantern Walk
This autumn, the Charity team is asking people to join in the fun with our family-friendly Lantern Walk in support of Royal Manchester Children's Hospital.
Taking place in the beautiful surroundings of Heaton Park, walkers can choose from a 2k or 4k distance and there is an autism friendly start line available. If you can't join us at Heaton Park, you can choose to take on your own individual Lantern Walk from home or from a location that's personal to you.
Registration is just £5 per child and includes an exclusive 2021 Humphrey's Lantern Walk medal, a goody bag and a twinkling light and lantern to light up the route's tunnel as the sun starts to set. Those that register before 1st October 2021 will be in with a chance of winning some exclusive goodies signed by Olivia Birchenough from Channel 5's Milkshake, including a personalised birthday video and a selection of merchandise signed by Olivia herself.
To find out more, please visit the website here.

Forever in Our Hearts
The Charity team is delighted to announce the return of this year's Forever in Our Hearts walk, back in the beautiful surroundings of Heaton Park.
On Saturday 13th November, we are asking anyone with a personal connection to our family of hospitals to join us on the 5k route, to walk with us in remembrance of friends, colleagues and patients. You can even choose to raise money for a specific ward or department rather than in memory of an individual, just let us know when you register.
This year, for those who would prefer not to join with others at our Heaton Park event, we would love you to plan your own walk, to remember your loved ones at a time and place that is of particular significance to you.
Registration is just £12.50, or £10 for those undertaking their own walk, and funds can be raised for any of our hospital charities. To find out more, please visit the website here.
Stay up to date with the latest Charity news and events
Manchester Foundation Trust Charity supports continuing excellence in treatment, research and care in our family of hospitals across Manchester and Trafford. We want to make a real difference to the people we treat – young and old – by making sure that they continue to receive the very best treatment in the very best facilities.
There are lots of different ways you can support our Charity and keep up to date with the latest news and events. Sign up to the MFT Charity e-Newsletter at mftcharity.org.uk/keep-in-touch to keep up to date with the newest fundraising campaigns and projects. You can also follow the Charity on their Facebook, Twitter and Instagram pages.
Visit mftcharity.org.uk for further information on the Charity and how you can get involved right away!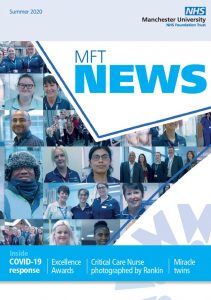 MFT Members' Newsletter
The third issue of our members' magazine (MFT News) includes a look at another eventful year of positive developments and achievements across the Trust, the hard work of our incredible staff and our response to the COVID-19 pandemic.
You can learn more about our governors, the 2020 governor elections and find out about the different arrangements we are making for our 2020 Annual Members' Meeting in the 'Your governors and members in action' section.
Similarly we had to make alternative arrangements for our MFT Excellence Awards Ceremony due to the pandemic. You can read about this year's outstanding finalists and our updated plans for how we'll recognise them in this issue.
Some of the ground-breaking work of colleagues from our hospitals, sites and services are also covered in the articles included in this edition. We hope you enjoy reading it.
The views and opinions of our members are really important to us so please let us know if you have any feedback about our newsletter by emailing ft.enquiries@mft.nhs.uk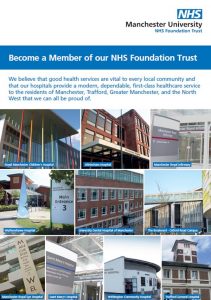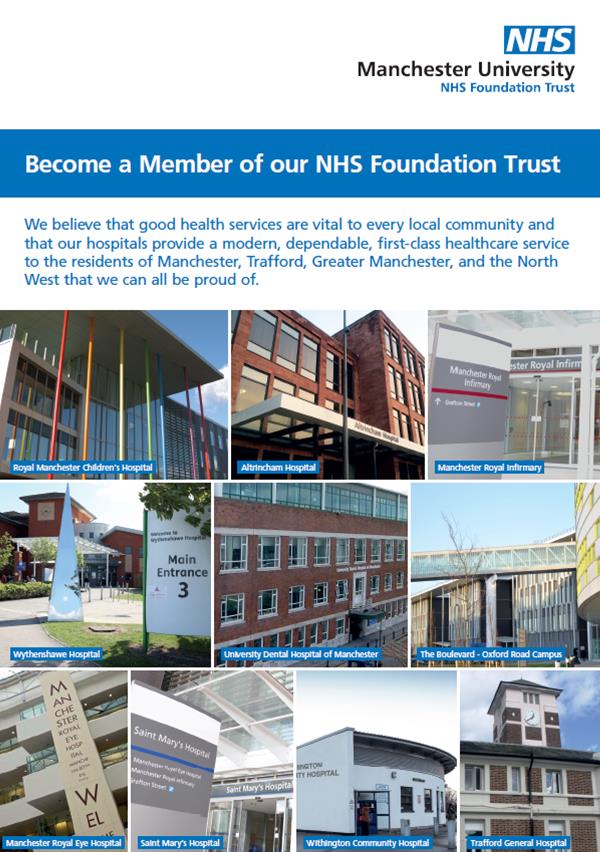 Become a Public Member of our NHS Foundation Trust
We would be delighted if you would consider being a public member of our Trust.  Anyone aged 11 years or over, who lives in England & Wales, can become a member and it is completely free.  Membership application is easy, simply complete a form:
Our 'Membership FAQs' provide more information or you can visit our 'Information for Public Members' webpage.
Our Staff are automatically invited to become staff members – find out more about Staff Membership on our 'Information for Staff Members' webpage.
Find out more about our Governors