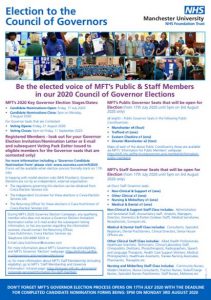 Governor Elections 2020 – Be the Elected Voice of our Members (Public and Staff) and the general public, representing their interests and views
The Trust gives notice that it is holding elections to the Council of Governors of the Manchester University NHS Foundation Trust:
The nomination process has now completed – please see the 'Statement of Nominated Candidates – PUBLIC' and 'Statement of Nominated Candidates – STAFF'.
Should any nominee wish to withdraw their nomination, they must put this in writing to the Returning Officer (Ciara Hutchinson) by the new extended deadline of 5pm on Monday, 10th August 2020 via:
Customer Services Helpline:
020 8889 9203
Returning Officer Name:
Ciara Hutchinson
E-mail:
ftnominations@cesvotes.com
Postal Address:
Ciara Hutchinson
Returning Officer
Civica Election Services
The Election Centre
33 Clarendon Road
London, N8 0NW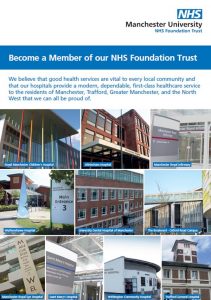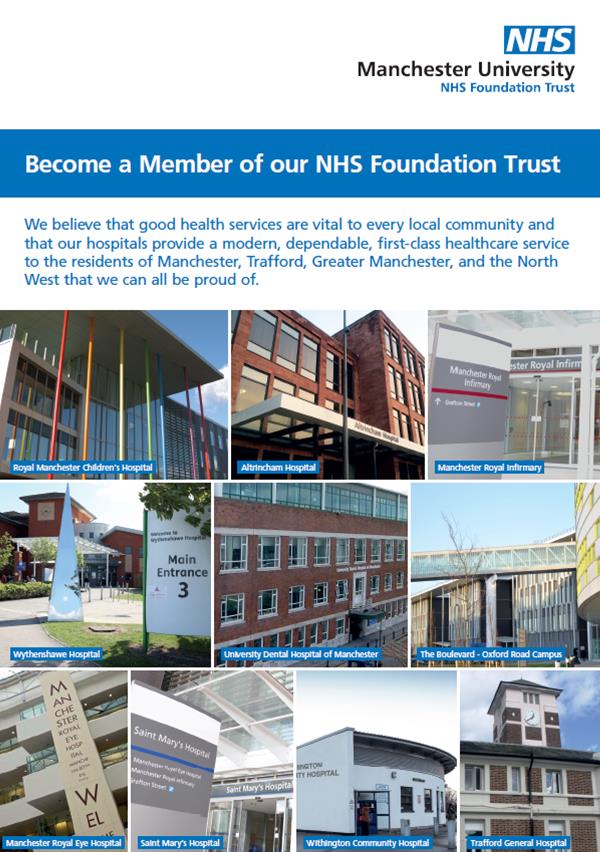 Further details, including Governor seats to be filled can be found on the Governor 'Elections' webpage.
Become a Public Member of our NHS Foundation Trust
We would be delighted if you would consider being a public member of our Trust.  Anyone aged 11 years or over, who lives in England & Wales, can become a member and it is completely free.  Membership application is easy, simply complete a form:
Our 'Membership FAQs' provide more information or you can visit our 'Information for Public Members' webpage.
Our Staff are automatically invited to become staff members – find out more about Staff Membership on our 'Information for Staff Members' webpage.
Important Membership Information
In keeping with the Trust's Constitution, outlined in Rule 27, taken from NHS Provider's Model Election Rules:
Eligibility to vote – An individual, who becomes a member of the corporation on or before the closing date for the receipt of nominations by candidates for the election, is eligible to vote in that election.
Therefore, new public member applications alongside automatic staff member enrolments are currently temporarily on hold until our current 2020 Governor Election closing date of Friday, 11th September 2020 at 5pm, following which new membership application status will be confirmed by the Foundation Trust Membership Office (contact details below). 

Meet our Lead Governor – Jayne Bessant
Jayne Bessant was successfully elected by MFT's Council of Governors as our Lead Governor, with the election results being formally announced at their meeting held on 5th November 2019.
After training as a nurse at MRI, Jayne worked for over 35 years in the NHS and charitable healthcare, latterly working in senior management roles within the hospice sector, her last role being Chief Executive of St Ann's Hospice.
Jayne said: 'The past few years have seen significant change for patients, staff and Governors. This is a crucial time with so many opportunities to further develop the work of the Governors and the positive impact they can bring.'
Jayne will serve as MFT's Lead Governor for a 12 month period of office (ending at the Council of Governors' Meeting in November 2020).
Find out more about our Governors