30 Miles My Way
This month the Charity team is delighted to announce the launch of their new 30 Miles My Way campaign in support of our family of hospitals.
Our hard-working staff across the Trust clock up many miles in their working day, with our nurses walking an average of 30 miles a week! In April, we are asking our supporters to get out in the fresh air and clock up 30 miles of your own…anyway you like, in support of our hospitals across Manchester and Trafford.
There are so many ways in which you could challenge yourself – you can run, walk or cycle the 30 miles in one go or space it out across the week or month! You can even choose to support a specific hospital, ward or area. Adapt your challenge to any age or ability – you really can set yourself a goal, ramp up your training and challenge yourself to do anything!
For further information, visit the website here.
Stay up to date with the latest Charity news and events
Manchester Foundation Trust Charity supports continuing excellence in treatment, research and care in our family of hospitals across Manchester and Trafford. We want to make a real difference to the people we treat – young and old – by making sure that they continue to receive the very best treatment in the very best facilities.
There are lots of different ways you can support our Charity and keep up to date with the latest news and events. Sign up to the MFT Charity e-Newsletter at mftcharity.org.uk/keep-in-touch to keep up to date with the newest fundraising campaigns and projects. You can also follow the Charity on their Facebook, Twitter and Instagram pages.
Visit mftcharity.org.uk for further information on the Charity and how you can get involved right away!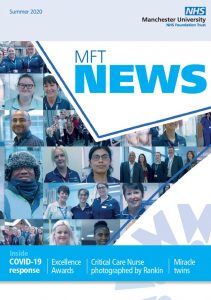 MFT Members' Newsletter
The third issue of our members' magazine (MFT News) includes a look at another eventful year of positive developments and achievements across the Trust, the hard work of our incredible staff and our response to the COVID-19 pandemic.
You can learn more about our governors, the 2020 governor elections and find out about the different arrangements we are making for our 2020 Annual Members' Meeting in the 'Your governors and members in action' section.
Similarly we had to make alternative arrangements for our MFT Excellence Awards Ceremony due to the pandemic. You can read about this year's outstanding finalists and our updated plans for how we'll recognise them in this issue.
Some of the ground-breaking work of colleagues from our hospitals, sites and services are also covered in the articles included in this edition. We hope you enjoy reading it.
The views and opinions of our members are really important to us so please let us know if you have any feedback about our newsletter by emailing ft.enquiries@mft.nhs.uk
Governor Elections 2020 – Elected Voice of our Members (Public and Staff) and the general public, representing their interests and views
The results of the elections to the Council of Governors of Manchester University Hospitals NHS Foundation Trust (MFT) are now available – please see document below:
Individual voting sheets for each contested seat are available upon request from the Returning Officer, Ciara Hutchinson at Civica Election Services via telephone – 020 8829 8456 or e-mail – Ciara.Hutchinson@civica.co.uk
The 2020 Governor Election results were formally outlined as part of our Annual Members' Meeting which this year was held in a virtual format due to ongoing COVID-19 social distancing and local lockdown restrictions.  As part of this virtual format, Annual Members' Meeting Key Messages (film-clips) were posted on our Annual Members' Meeting webpage (found under the 'Members' Meeting' section of our website – www.mft.nhs.uk ). Newly elected and nominated Governors formally started in office on 23rd September 2020.
Further information about the election process can be found on the Governor 'Elections' webpage.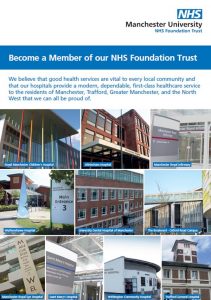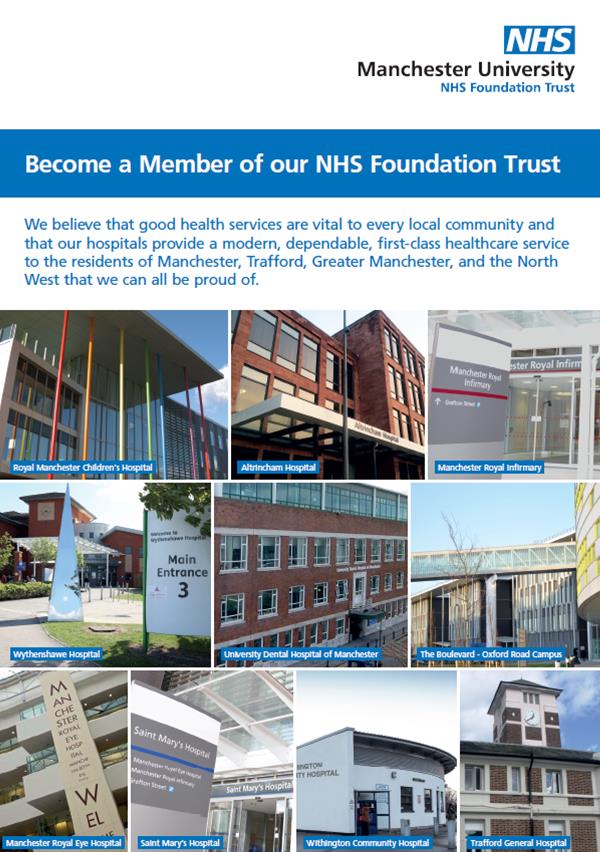 Become a Public Member of our NHS Foundation Trust
We would be delighted if you would consider being a public member of our Trust.  Anyone aged 11 years or over, who lives in England & Wales, can become a member and it is completely free.  Membership application is easy, simply complete a form:
Our 'Membership FAQs' provide more information or you can visit our 'Information for Public Members' webpage.
Our Staff are automatically invited to become staff members – find out more about Staff Membership on our 'Information for Staff Members' webpage.
Find out more about our Governors