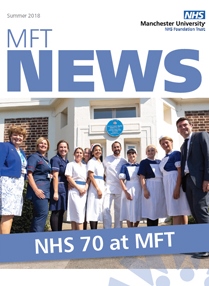 Our new 'MFT News' membership newsletter includes an update on Governors and our Trust following the merger, alongside key patient care and research developments, a round-up of the NHS 70 celebrations and a spotlight on staff recognition.  The newsletter also provides an opportunity for readers to share their views about our future priorities which can also be captured by completing our short on-line questionnaire.  More information about our forward plans can be found on our 'Our Forward Plans' webpage.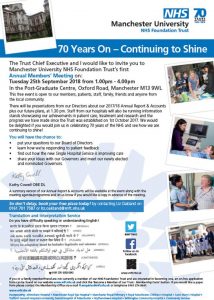 The newsletter also provides details of our forthcoming Annual Members' Meeting which this year focuses on '70 years in the NHS and continuing to Shine'.  This meeting event is being held on:
Tuesday 25th September 2018 at 1.00pm – 4.00pm in the Post-Graduate Centre, Oxford Road, Manchester M13 9WL
The event is completely free and open to our members, patients, staff, family, friends and anyone from the local community – we would be delighted if you would join us.  More information, including booking details, is available via our  'Annual Members' Meeting' webpage.
If you have any comments or suggestions regarding our membership newsletters, and/or if you would like to find out more about 'being a member' of our NHS Foundation Trust, contact the Foundation Trust Membership Office:
Post:
Freepost Plus RRBR-AXBU-XTZT
MFT NHS Trust
Oxford Road
Manchester M13 9WL
Phone: 
0161 276 8661 (office hours 9.00 am to 5.00 pm, Monday to Friday; answering machine outside these hours)
E-mail: