We provide a wide range of community services for adults and children, in your own home and other locations including nursing homes, health clinics, and GP surgeries to make sure you get healthcare which is coordinated and meets your needs.
Manchester Local Care Organisation (MLCO)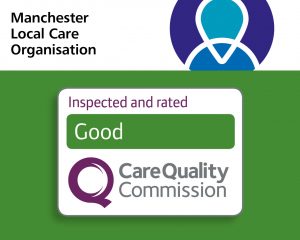 provides integrated out-of-hospital care in Manchester. This includes community nursing, community therapy services, intermediate care and enablement, some community-facing general hospital services and adult social care services. MFT is a key partner in MLCO and around 1,500 MFT NHS community staff are now deployed to MLCO.
We provide services locally, so you get the support and care that fits around you.
Our staff include community nurses, physiotherapists, occupational therapists, speech and language therapists and many more roles.
Find out more in the following dedicated sections