New cardiologist rota ushers in improved service for pacing patients.
In April 2019 an expanded seven day service for pacemaker patients was launched at Manchester University NHS Foundation Trust (MFT). The implementation of a joint heart rhythm service across both Manchester Royal Infirmary (MRI) and Wythenshawe Hospital means that the patients with the greatest need for a pacemaker no longer have to wait until after the weekend or bank holiday. Previously no full service was available due to sites working separately resulting in lack of available staff and facilities.
The first weekend pacing implant took place on 27 April at Wythenshawe Hospital, utilising staff from both hospital sites. Dr Fozia Ahmed, a Consultant Cardiologist based at MRI, went to Wythenshawe Hospital to perform the emergency weekend procedure; something that would not have been possible before the creation of MFT.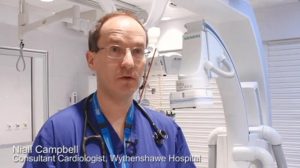 "By introducing a joint site rota, teams are working together who previously didn't." Niall Campbell, Consultant Cardiologist at MFT, said. "We wanted staff to feel like a recognised members of the team and not a visitor when working at a new hospital. By getting this process right, patients are being treated more effectively and by establishing these connections future collaboration will be much easier"
Clinicians are also sharing knowledge and best practice as they work across sites to provide this service for patients. Dr Ahmed said: "The team at Wythenshawe were excellent and the case went well". By working collaboratively, teams will now be providing unstable patients with access to a pacemaker implant during a weekend or bank holiday within 24 hours of admission.