Tell us what matters to you
Each year we develop our forward plans which set out what we plan to do in the coming year – this involves balancing the interests of patients, the local community and other stakeholders.
In order to ensure that our plans meet the needs of our patients and their families, we seek the views from our Governors, and other key stakeholders.
Who we are
Manchester University NHS Foundation Trust (MFT) was established on 1st October 2017 following the merger of Central Manchester University Hospitals NHS Foundation Trust (CMFT) and University Hospital of South Manchester NHS Foundation Trust (UHSM) to become one of the largest Foundation Trusts in the UK.
We are responsible for running a group of ten hospitals, across seven separate sites, providing a wide range of services from comprehensive local general hospital and community care, through to highly specialised regional and national services.
Our group of hospitals incorporates:

Our Vision and Strategic Aims
Our vision and strategic aims set out our longer-term aspirations, describing what we want to achieve and how we want the Trust to develop over the next five years. Our vision and strategic aims are: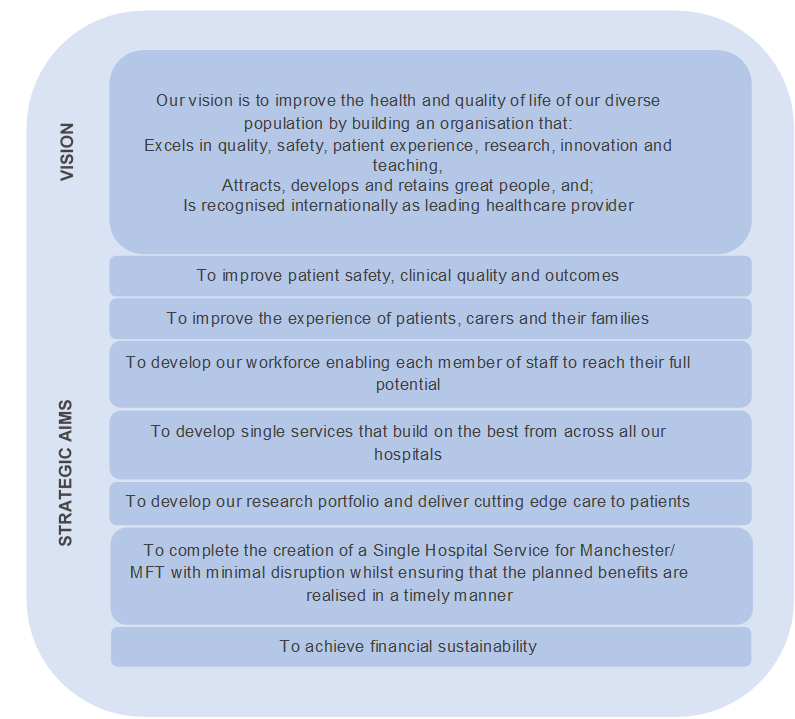 Our Forward Plans – Tell Us What Matters to You
In planning for the coming year, we aim to engage with a wide range of stakeholders including patients and their families, staff, partner organisations and the wider public.  Understanding their views helps us to develop our services so that they meet the needs of the communities that we serve.
Seeking and listening to the views of our members, patients and the public is very important to our Board of Directors and Council of Governors – our Governors are elected by members (staff and public) or are nominated by partner organisations in order to represent your views.
Further Information/Involvement Opportunities:
For further information about our forward planning process or how to get involved/share your views, contact the Foundation Trust Membership Office:
Post:
Freepost Plus RRBR-AXBU-XTZT
MFT NHS Trust
Oxford Road
Manchester M13 9WL
Phone:
0161 276 8661 (office hours 9.00 am to 5.00 pm, Monday to Friday; answering machine outside these hours)
E-mail:
ft.enquiries@mft.nhs.uk
Important Information:  If you have a specific concern, complaint or compliment, please contact the Patient Advice and Liaison Service (PALS) – contact details below:
Patient Advice and Liaison Service (PALS)
For Manchester Royal Infirmary, Trafford General Hospital, Altrincham Hospital, Manchester Royal Eye Hospital, University Dental Hospital of Manchester, Royal Manchester Children's Hospital or Saint Mary's Hospital
Tel: +44 (0)161 276 8686
Email: pals@mft.nhs.uk
For Wythenshawe Hospital or Withington Community Hospital
Tel: +44 (0)161 291 5600
Tel: +44 (0)161 291 2031
Tel: +44 (0)161 291 2033
If you have a general hospital enquiry please contact the switchboard on 0300 3309444, who will be able to direct your enquiry to the appropriate area or alternatively visit our 'Contact Us' webpage.