The label on the sample vial must record the forename (or initial), surname, date of birth and the NHS number (if known) to allow matching of the vial and request form. After labelling, the sample should be placed in the specimen bag.
Sample taking supplies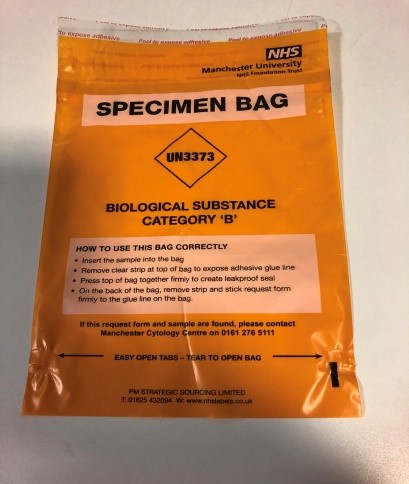 Instructions on how to use the bag to securely hold the sample container and attach the request form are written on front of the specimen bag.
LBC kits and transport of samples
The laboratory will deliver a supply of LBC sample kit consumables to each practice/clinic. If there are any issues relating to the provision of LBC kits, please contact us on 0161 276 5172
The laboratory uses a database to keep a record of the number of LBC kits used by each surgery and clinic to ensure that supplies are readily available.
Stock rotation
Please be aware that LBC vials have an expiry date and it is the sample takers responsibility to ensure stock rotation and to check that the vials they are using have not passed the expiry date as printed labels containing patient details often obscure the expiry date once attached to the vial. Please ensure the expiry date on the vial is at least 14 days after the sample has been taken.
Posting LBC vials
Occasionally it may be necessary to post a sample vial to the laboratory. If this is the case, then please be aware that:
Royal Mail will only transport UN3373 diagnostic specimens if they are packaged following packaging instruction P650 and;
Sent by first class post or special delivery to an inland address only
The packet is marked with the sender's name, telephone number and address
(Last reviewed April 2021)