Directions to MFT Finance & Procurement Business Unit (FPBU).
MFT's Finance & Procurement Business Unit (FPBU) is located at Trafford General Hospital.
Trafford General Hospital
Moorside Road
Daveyhulme
Manchester
M41 5SL
The telephone number for the FPBU Reception is 0161 537 2340 and the Trafford General Hospital's Main Reception can be contacted on 0161 748 4022.
Getting to the FPBU by Car
Trafford General Hospital is only several minutes away from the M60, turn off at junction 10 and take the roundabout exit for Barton Road. Follow Barton Road to the roundabout for Hayeswater Road and at the end of the road turn right onto Moorside Road and turn right once you see the hospital buildings.
For a personalised driving map and directions to our site, click here for a link to Google Maps or type M41 5SL into your sat nav.
Parking
Trafford General Hospital provides 3 hours free parking for visitors, if you think your visit will exceed 3 hours, please let FPBU Reception know when you arrive and they will contact Parking Services.
Getting to the FPBU by Public Transport
There are several bus and rail options to get to Trafford General Hospital.
Bus
The main bus service which stops outside on Moorside Road is the 256 Manchester Piccadilly to Flixton via Daveyhulme, Urmston, Stretford, Moss Side, Hulme and Oxford Road.
Train
The closest train stations are Chassen Road (CSR), less than 1 mile away, and Urmston (URM), approximately 1.5 miles away.
Shuttle Bus
The Trust has a Shuttle Bus service which operates between the MFT's Oxford Road Campus (from the bus stop on the Boulevard) and Trafford General Hospital. It is £1.00 per journey for non-NHS staff. If you would like to use the Shuttle Bus service, please let us know and we will send you the timetable.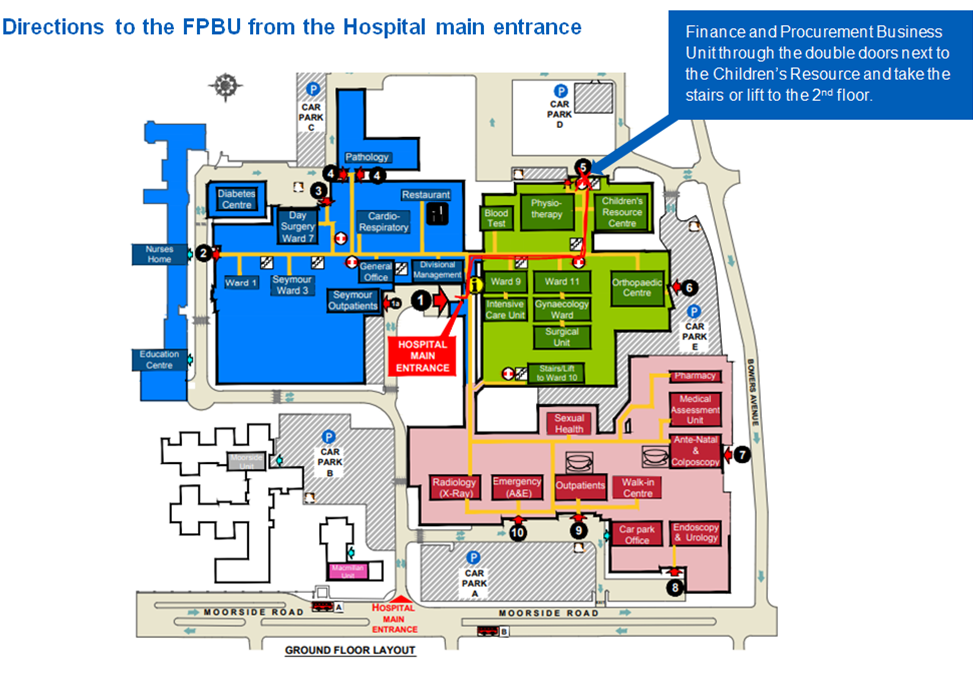 From the main entrance follow the signs to the green area to the corridor for Physio and Children's Resource Centre.
Go through the double doors to the left of the entrance to the Children's Resource Centre and take either the stairs or one of the lifts up to the Finance and Business Procurement Unit on the 2nd floor.