Manchester University NHS Foundation Trust, in partnership with DrDoctor, a digital health company, is introducing digital appointment letters to support:
• Easy and quick access to your appointment letters
• Reduce confusion from lost letters or letters arriving in the wrong order
• Improve accessibility for all our patients
• Save the NHS money by reducing the amount of paper and stamps we are using
• Reduce our environmental impact
Over the coming months, when we send you an appointment letter, we will also send you a text message with a link (nhs.my/mft) to our online portal, which allows you to view and download your appointment letters on your mobile phone, tablet or computer.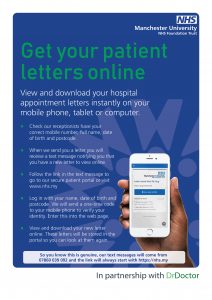 How do I view my digital letter?
We will send you a text message (and email if requested) when you have a new digital appointment letter to view online
Click the link in your text message (nhs.my/mft) to go to your secure patient portal
Click 'View letter' and login using your last name, date-of-birth and postcode
View and download your new digital letter online as a PDF. Your letters will be stored here for future reference
You can access your appointment letters from any device by visiting nhs.my/mft
When using a different device, we will send a code to your mobile phone number for security.
Patients who prefer printed appointment letters can still receive their letters by post as usual.
Frequently Asked Questions