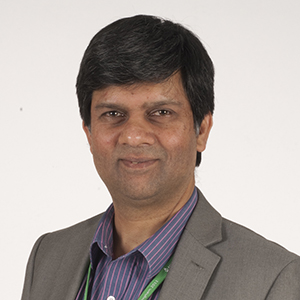 Mr Mandagere Vishwanath
Consultant Ophthalmologist
Qualifications
FRCSEd, DOMS
---
Special Interests
Strabismus (Squints), Neuro-Ophthalmology, Ocular Ultrasonography and Cataract Surgery.
---
Biography
He graduated in medicine from Mysore University, India in 1987. He did post graduate training in Ophthalmology in India. This was followed by higher specialist training In Wales and Manchester. He gained the fellowship of the Royal College (FRCSEd) in 1993. He gained further subspecialist training in the fields of paediatric ophthalmology at Great Ormond Street Hospital, London, and in Squint and Neuro-Ophthalmology at Manchester Royal Eye Hospital, Manchester and Aintree University Hospital, Liverpool.
He was appointed Consultant Ophthalmologist at the Manchester Royal Eye Hospital in January 2009.He is also an honorary lecturer of Manchester University. He sees patients with a variety of eye problems including glaucoma, retina and cataracts in his general clinic. He has established specialist clinics for patients with squint and neuro-ophthalmic problems.
He is an accomplished cataract surgeon with more than 3000 surgeries to date. He is one of the consultants managing complex cataracts at the Manchester Royal Eye Hospital and one of the few with expertise in extracapsular cataract surgery needed for advanced cataracts. Ophthalmic trainees of Manchester Deanery attend his theatres to learn complex cataract surgery.
In the field of squints, he provides the final solution for many failed or complex squints customising and guaranteeing optimal outcome with adjustable stitches. He also has the expertise of treating squints with botulinum toxin injection for those who are not suitable for correction by surgery.
In the field of neuro-ophthalmology he establishes the cause and provides treatment for many unexplained visual or eye problems related to nerves of the eye and brain. He has set up the sole biopsy service to diagnose temporal arteritis, a condition which can cause blindness, for central, north and south Manchester hospitals.
He is the only consultant ophthalmologist in the greater Manchester region with expertise in ultrasound diagnosis of eye diseases including different varieties of glaucoma, swollen optic nerves and eye cancers.
He is a clinical and educational supervisor, and trains doctors from the UK and abroad in the field of ophthalmology in general, and cataract surgery, squint and neuro-ophthalmology in particular. He is the audit lead for the Manchester Royal Eye Hospital ensuring high standard of care is provided.
He is active researcher currently involved in drug trials for multiple sclerosis, lung and skin cancer. He has presented many scientific papers in national and international meetings. He has more than twenty publications in peer reviewed medical journals. He is a reviewer for the strabismus section of British Journal of Ophthalmology. He is an active member of International Strabismus Association, Societas Internationalis Pro Diagnostica Ultrasonica in Ophthalmologia, British and Irish Neuro-Ophthalmology Club.