Manchester Royal Eye Hospital has provided world class ophthalmic care to the people of Manchester, the surrounding region and the wider United Kingdom since its inception in 1814.
As an NHS service we are committed to ensuring patients are at the heart of everything we do.
Our surgeons are leaders in their fields and are supported by highly skilled and committed clinical teams. We employ the latest technologies to ensure the care we provide to our patients is modern, safe and effective.
The hospital is designed to see a variety of outpatients, provide regular treatments and care for inpatients. Patients benefit from the laser treatment, purpose built injection, examination and consultation rooms and ultra sound and clinical imaging facilities. The inpatient area, with a variety of private rooms, four bedded area and treatment rooms, is easily located on the first floor.
Together, the facilities enable the delivery of a large variety of specialist services.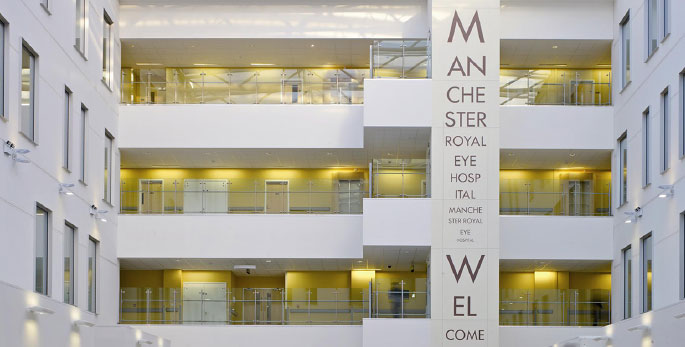 Locations
The Manchester Royal Eye Hospital now provides some of its services across a number of locations, aiming to take care closer to home, this makes attending regular appointments easier for many patients. You can view our Locations here.
Our Vision & Values
Manchester Royal Eye Hospital is proud to align itself with the shared Vision & Values of MFT.