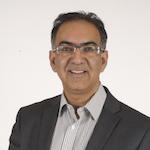 Professor S Ahmed Sadiq
Consultant Ophthalmic Surgeon, Cataract & Oculoplastics; Visiting Professor, Liverpool John Moores University
Qualifications:
DO MRCOphth FRCS FRCOphth DM
Special Interests:
High Volume Cataract Surgery, Facial Palsy, Ptosis, Eyelid malposition, Ocular tumours
Biography
Ahmed qualified from the University of London in 1987, and started training in Ophthalmology in London in 1989. He was a registrar and a fellow in Nottingham, and was appointed as Consultant Ophthalmic Surgeon specialising in phacoemulsification and oculoplastics at the Manchester Royal Eye Hospital in December 1998. He was conferred a Visiting Professorship at Liverpool John Moores University in October 2014. He has over 60 publications, more than 60 presentations, and a DM (thesis on endonasal laser DCR).
Ahmed's roles
Ahmed teaches and examines both medical and optometry students. He is a member of the Local Negotiating Committee on behalf of the Manchester Royal Eye Hospital, and is a North West Representative of the Hospital Consultants and Specialists Association. He has raised money for the New Children's Hospital by arranging sponsored events. Ahmed has helped draft new mobile telephone use and consent policies for the Trust whilst he was Vice-Chairman of the Clinical Practice Committee.
Ahmed is a Fellow of The RCOphth and a Founder Member of The British Oculoplastic Surgery Society. He is an examiner for the RCOphth as well as part of the Training The Trainers and Microsurgical Skills faculties. Due to his interest in facial palsy management, he is a medical adviser to the British Acoustic Neuroma association, and a Medical Advisory Board member of Facial Palsy UK, a national charity. He is a member of the Ophthalmic Qualifications Committee of the British Medical Association. He is an ex-Council member of the General Optical Council, and ex-member of the Fitness to Practice Panel of the GMC, and was recently the Chairman of the Hospital Doctors Forum for the British International Doctors Association.
He is active in research himself, and reviews article for academic journals. He is a medical member of the Appeals Panel of General Medical Council, and an Assessor for the National Clinical Assessment Service.
Outside medicine, Ahmed is involved with medical charities and community finance initiatives, a Medical Member of the First Tier Tribunal of the Social Security Entitlement Chamber, and is co-chair of the Manchester Christian-Muslim Forum.
Publications & Presentations in this field
Sadiq SA and Downes RN, A clinical algorithm for the management of facial nerve palsy from an oculoplastic perspective, Eye 1998:12:2;219-223
Sadiq SA and Downes RN, Can facial nerve palsy be predicted before acoustic neuroma surgery, 3rd European Skull Base Congress, London 1997 Oral
Sadiq SA and Downes RN, A clinical algorithm for the management of facial nerve palsy from an oculoplastic perspective, 3rd European Skull Base Congress, London 1997 Oral
Sadiq SA, Facial Palsy, CME Journal of Ophthalmology 1998:2:3;66-68
Shah A & Sadiq SA, Facial disfigurement – non-medical aspects, Eye News, Dec/Jan 06, 12, 4; 8-11
Invited Speaker & Co-Chair – Facial Palsy, Asia Pacific Association of Ophthalmic Plastic & Reconstructive Surgery 2007, India
Rahman I & Sadiq SA, Ophthalmic Management of Facial Nerve Palsy – A Review, Survey of Ophthalmology 2007;52;2:121-144
Sadiq SA & Saeed SR, Botulinum Toxin to improve symmetry in facial nerve palsy, XI International Facial Nerve Symposium, Rome 2009
Sadiq SA, Persistent diplopia after botulinum toxin induced comparison – comparison of 2 injection sites, XI International Facial Nerve Symposium, Rome 2009
Sadiq SA, Usmani H, Saeed SR, Walker W & Ross GL, The effectiveness of a combined multi-disciplinary facial function clinic, XI International Facial Nerve Symposium, Rome 2009
Edmondson SJ, Gajanan K, Sadiq SA & Ross, GL
Patient and relative outcome measures for patients undergoing static facial palsy surgery for the midface
BAPRAS Dec 2009
Fu L, Rashid A, Bundy C & Sadiq SA, Psychological Distress in People with Disfigurement from Facial Palsy
a. Oral presentation at National Student Research Conference, Manchester Oct 2009
b. Poster presentation at 14th Nottingham Eye Symposium 29/1/10
c. Poster presentation at Congress of the Royal College of Ophthalmologists May 2010
d. Poster presentation at BOPSS 2010
Oral Presentation at 6thInternational Congress of World Federation of Skull Base Societies 2012
Oral Presentation at UK Society for Behavioural Medicine, Annual Scientific Meeting, Manchester 11/12/12
Sadiq SA& Kwhaja S  Botulinum Toxin to improve lower facial symmetry in facial nerve palsy
Poster at CMFT 2010 Research & Innovation Exhibition
Usman U, Saeed SR & Sadiq SA, Effectiveness of a Multidisciplinary Facial Function Clinic
Poster presentation at BOPSS 2010
Oral Presentation at 6th International Congress of World Federation of Skull Base Societies 2012
Sadiq SA, Saedon H & Saeed SR, BTXA to improve asymmetry in facial palsy
Oral presentation at BOPSS 2010
Oral Presentation at 6th International Congress of World Federation of Skull Base Societies 2012
Key Note Lecture on Facial Palsy
Arab & African Ophthalmic Congress 2010
Keynote lecture – Facial Palsy Management; Primary and adjunctive uses of Botox in the peri-orbital region
Delhi Ophthalmic Society 15-17 April 2011
Fu L, Bundy C & Sadiq SA  Psychological Distress in People with Disfigurement from Facial Palsy
Eye 2011; 25: 1322-1326
Sadiq SA, Usmani HM, & Saeed SR  Effectiveness of a Multidisciplinary Facial Function Clinic
Eye 2011: 25: 1360-1364
Smith O & Sadiq SA  Ophthalmic Complications and Management of Facial Nerve Palsy
Journal of the British International Doctors Association 2011; 18;2;10-12
Sadiq SA, Khwaja S & Saeed SR  Botulinum Toxin to improve lower facial symmetry in facial nerve palsy
Eye 2012: 26: 1431-1436
Sadiq SA   Dynamic Muscle Transfer in Facial Nerve Palsy : Use of the Orbicularis Muscle
Oral Presentation at 6th International Congress of World Federation of Skull Base Societies 2012
Dharmasena A & Sadiq SA
Dynamic muscle transfer in facial nerve palsy – the use of the orbicularis oculi muscle
5th European Plastic Surgery Research Council August 22-25, 2013 Hamburg
The MREH Bicentenary Ophthalmology Scientific Conference June 24-27, 2014 Manchester
Sadiq SA & Dharmasena A   Superior Rectus Underaction Following Botulinum Toxin Injection To Induce Protective Ptosis – A Comparison Of 2 Techniques
Strabismus September 2014, Vol. 22, No. 3 , Pages 111-114
Sadiq SA & Dharmsena A   Dynamic Muscle Transfer in Facial Nerve Palsy : Use of the Orbicularis Muscle
Facial Plastic Surgery In Press