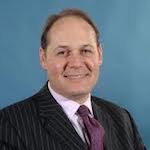 Professor Paulo Stanga
Consultant Ophthalmologist and Vitreoretinal Surgeon, Professor in Ophthalmology and Retinal Regeneration
---
Qualifications
MD
---
Special Interests
Professor Stanga specialises in the medical and surgical treatment of vitreo-retinal disorders, such as age-related macular degeneration (AMD), including anti-VEGF therapy, diabetic retinopathy and maculopathy, retinal vein occlusions, macular hole, retinal detachment as well as cataracts and ocular trauma. Professor Stanga is also pioneering surgery for artificial vision in blindness that includes electronic epiretinal prosthesis implantation or so called "bionic eye".
---
Biography
Professor Stanga has over 20 years experience in ophthalmology having held positions at Cornell University, New York; Moorfields Eye Hospital, London and Royal Liverpool Hospital, Liverpool before being appointed Consultant Ophthalmologist and Vitreo-retinal Surgeon at Manchester Royal Eye Hospital in 2003.
In 2008, Professor Stanga was appointed Reader/Associate Professor in Ophthalmology, University of Manchester. Professor Stanga is a Member of the Royal College of Ophthalmologists, British Medical Association, General Medical Council and Association for Research in Vision and Ophthalmology.
Professor Stanga is continually active in research and development as well as being dedicated to expert teaching and training, both in the UK and overseas. As a marker of his international standing Professor Stanga has received fourteen (14) invitations to speak at international conferences in 2009 and 2010. In 2006, Professor Stanga introduced into the EU the new retinal laser photocoagulation system Pattern Scan Laser and since then has been developing new retinal laser photocoagulation techniques/strategies for the treatment of Diabetic Retinopathy.
As a result of the research that Professor Stanga leads, the Manchester Royal Eye Hospital and the University of Manchester are now one of the world leaders in this field. As the Manchester PI and surgeon for the 10-centre international trial on the Argus II (Bionic Eye) epiretinal electronic implant for blindness in Retinitis Pigmentosa, Professor Stanga presented the results at international meetings.
In 2010, Professor Stanga was selected by the CMFT Charities Department out of the Manchester Royal Eye Hospital (MREH) Consultants and Researchers to present on my research as the only Guest Speaker on a Fundraising Dinner in benefit of the MREH.
Professor Stanga runs a Research Fellowship programme at the Manchester Royal Eye Hospital for retinal conditions. He is also a PhD supervisor and has established scientific collaborations with the Universities of Cornell, Heidelberg and Stanford, Dohenny Eye Institute-University of Southern California, Kings College Hospital, Moorfields Eye Hospital and University College London.
Professor Stanga has a profile as an NHS teacher, trainer and educator. e.g. Invited by the Royal College of Ophthalmologists to chair in 2010 the RCOpth Annual Vitreoretinal Update Seminar and to chair the Imaging Symposium for the 4th consecutive year during its 2011 Annual Meeting (Professor Stanga was one of the introducers of Retinal Optical Coherence Tomography (OCT) Imaging into clinical use in the UK in 1998 and ever since then presented on this topic and other imaging modalities as Invited Speaker at national and international level).
Having given numerous lectures in a wide variety of topics of general ophthalmology, Professor Stanga has been involved in the clinical teaching of Undergraduate/Postgraduate; Medical PhD and Optometry Students, Nurses, Orthoptists, Opthalmology and Vision Sciences MSc.
As a marker of his national standing, in 2010 Professor Stanga was invited by the Royal College of Ophthalmologists to be a member of the panel of Key Opinion Leaders tasked with updating the National Diabetic Retinopathy College Guidelines.