Today (December 16th) Manchester University NHS Foundation Trust (MFT) is marking a major milestone by joining other hospital Trusts from across the country to become a Hospital COVID-19 vaccination hub.
MFT's Oxford Road Campus has been designated as a site for the vaccination hub and from today, the Pfizer/BioNTech vaccine will be administered to people aged 80 and over, care home workers, as well as some frontline NHS workers who are at higher risk of serious illness from Covid.
This follows the launch last week which saw the NHS begin the biggest and most highly anticipated immunisation campaign in its history, initially with 50 hospital hubs, with more hospitals set to vaccinate over the coming weeks and months as the programme ramps up.
Teams of experienced vaccinators have been given additional training to administer the Pfizer/BioNTech vaccine.
Professor Cheryl Lenney, Chief Nurse at Manchester University NHS Foundation Trust, said:
"We are incredibly proud to be amongst the next wave of NHS Trusts rolling out the delivery of this national vaccination programme, to protect our most vulnerable patients, as well as frontline NHS and care home workers.
"Since the start of the pandemic, our Hospitals have been caring for seriously ill Covid patients and our staff have seen first-hand the devastating impact of this virus on the communities we serve.
"As a hospital vaccine hub, we are very pleased to begin safely vaccinating those at greatest risk and look forward to rolling it out to all our frontline workers in the New Year."
Since the Pfizer vaccine was given the green light from regulators, health service staff have been working around the clock to manage the huge scale logistical challenge of deploying the vaccine.
The Pfizer vaccine needs to be stored at -70C before being thawed out and can only be moved four times within that cold chain before being used.
Charlotte Skitterall, Chief Pharmacist at Manchester University NHS Foundation Trust, said:
"Today marks an important milestone in Covid recovery, after a challenging year this offers real hope. There have been complex and logistical challenges in planning the vaccine rollout, to ensure it is stored, handled and administered safely. This was made possible through an incredible multi-disciplinary team effort so huge thanks to all colleagues involved."
As the vaccination rollout takes place at MFT today (Wednesday 16th December), the first patient to get offered a vaccine was Manchester Royal Eye Hospital patient Mrs Monica Washington.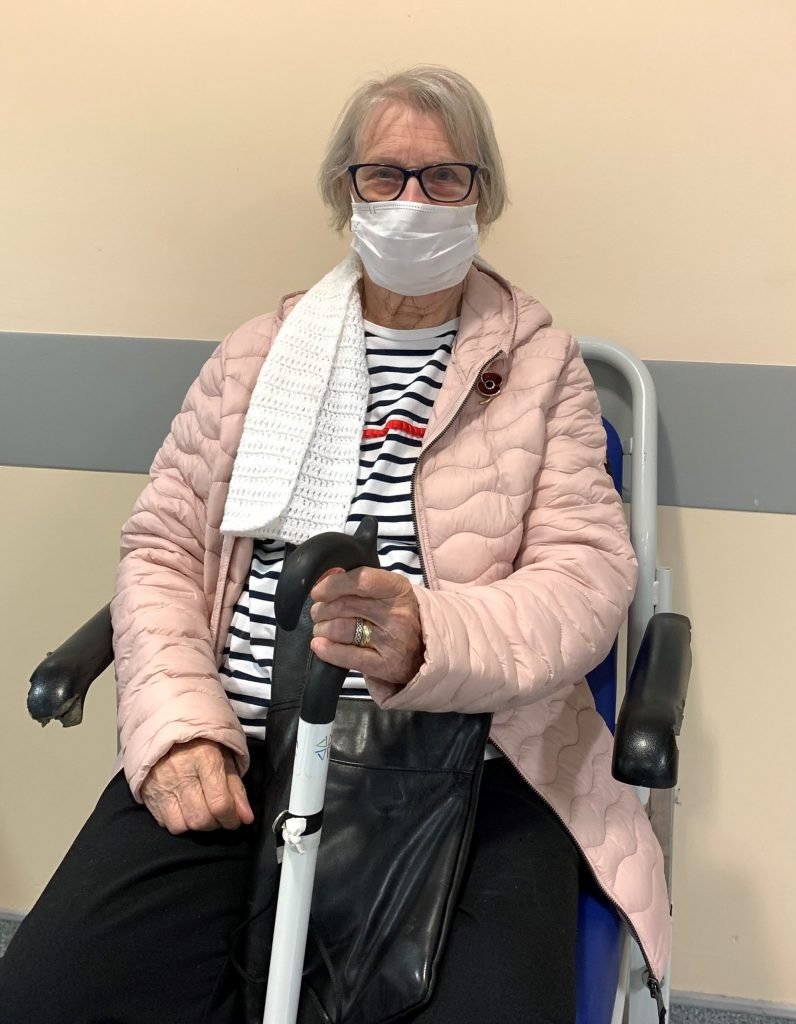 Monica, 86 from Eccles and previously a Phlebotomist for over 35 years in the NHS said:
"I was so pleased when I got the call. My family are really pleased I'm getting the vaccine because they've been understandably worried about me as an older person. Fortunately I have them to help me with things like my shopping but I will look forward to being able to go to the shops again myself, and I've already got my appointment to come back for my second jab in January. I've been really looked after here today from start to finish and everyone has been lovely. I think it's important and everyone should get the vaccine if they can."
Vaccinating Mrs Washington was Walter Tann, former Lead Nurse at Royal Manchester Children's Hospital, who re-joined to NHS this week to support the Covid vaccination programme, following his retirement in early 2020.
He said:
"It's good to be able to return and support staff and great to be part of something exciting like the rollout of the vaccine. I hope this is the start of something positive which will help us to return some sort of normal."
Sir Simon Stevens, NHS chief executive, said:
"Coronavirus is the greatest health challenge in NHS history, taking loved ones from us and disrupting every part of our lives.
"Hospitals have now cared for more than 190,000 seriously ill Covid-19 patients and have seen beds fill up again in recent weeks.
"The deployment of this vaccine marks a decisive turning point in the battle with the pandemic. NHS vaccination programmes which have successfully helped overcome tuberculosis, polio, and smallpox, now turn their focus to coronavirus.
"NHS staff are proud to be leading the way as the first health service in the world to begin vaccination with this Covid jab."
Any appointments not used for these most at-risk groups will be used for healthcare workers who are at highest risk of serious illness from Covid. All those vaccinated will need a booster jab 21 days later.
It is important to remind everyone to continue adhering to government guidance relevant to their area and to maintain social distancing, practice good hand hygiene and wear masks when required.
Oxford Road Campus refers to several MFT hospitals and located on Oxford Road, Manchester. These include Manchester Royal Infirmary, Manchester Royal Eye Hospital, Saint Mary's Hospital and Royal Manchester Children's Hospital.