Staff and patients at Manchester University NHS Foundation Trust, will mark Remembrance Day to commemorate those who have died in service, and show support to serving and former members of the Armed Forces community and their families.
The Trust's chaplaincy team will lead a socially distanced Armistice service at its Multi-Faith centres on Thursday 11th, November. Those who are unable to attend and members of the public can watch a pre-recorded 'virtual' service online.
Both will include a selection of moving readings and prayers from Trust staff members from the 207 Field Hospital and Veterans of the Armed Forces. This will then be followed with a two-minute silence to mark November 11, which is also recognised on Remembrance Day.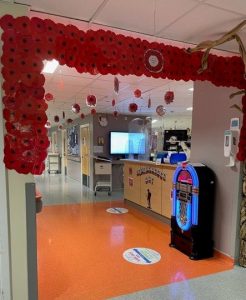 Visitors to the hospital will see poignant displays around the site, featuring Remembrance Day pictures and poppies drawn by the children from the on-site nursery and those who are inpatients.
Royal British Legion donation poppy boxes can be found at the front of main entrances across the Trust with poppy stickers available.
Kathy Cowell OBE DL, Group Chairman at The Manchester University NHS Foundation Trust said:
"Armistice Day honours the service of those who defended our democratic freedoms protected our way of life.
"It is important to take this opportunity to unite in pausing together and paying tribute to those who have served and sacrificed to defend our nation."
Socially distanced services for staff and patients:
Oxford Road Campus Multi-Faith Centre: Service of Reflection from 09:30 am
Wythenshawe Multi-Faith Centre: Service of Reflection from 09:30 am
North Manchester General Hospital, St. Luke's Chapel: Armistice Day Service at 10:55 am.
The Trust's virtual Armistice service can be accessed via this link :https://youtu.be/Pg5d0q-gRe4
For more information and to support the Poppy Appeal this year visit www.britishlegion.org.uk
Information for all Remembrance Day services taking place in Greater Manchester can be found here: https://www.manchestereveningnews.co.uk/whats-on/whats-on-news/remembrance-sunday-2021-services-greater-22080718