The Unit of Paediatric Dentistry accepts referrals for children under the age of 16 years.
We accept referrals for:
Children with complex medical problems which may affect the provision of dental care.
Children with developmental problems, learning difficulties and behavioural problems, who are unable to cooperate for routine dentistry.
Children who have sustained complex dental trauma (e.g. pulp involvement in immature teeth).
Children with congenital or acquired dental anomalies who may require complex restorative or orthodontic treatment (e.g. Hypodontia, Ameologensis Imperfecta, Dentinogenesis Imperfecta, Molar Incisor Hypominerisation, Micro/macro-dontia and delayed eruption).
Children with soft or hard tissue pathology such as ulceration, swellings, and cysts.
Children with non-contact tooth surface loss, requiring specialist intervention.
Children with periodontal problems.
Children with cleft lip and palate and other cranio-facial anomalies.
Supernumeraries, odontomes, impacted teeth, submerging teeth, abnormal frenal attachments, and tongue-ties which may require surgical management.
Pre-cooperative children who require extractions.
Children with extreme dental anxiety who have proven unable to co-operate with routine dental treatment.
We DO NOT accept referrals for:
Routine primary care (e.g. caries in cooperative children, endodontic treatment in permanent teeth with closed apex).
Root canal treatment in permanent molars unless there is good clinical indication for retention of the compromised tooth i.e. severe hypodontia.
Orthodontic extractions under GA.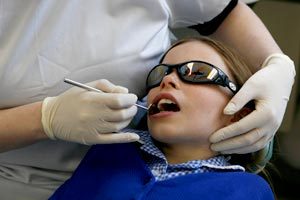 Guidance for Referral Letter information
All referrals must provide the following information:
Patient Name
Date of Birth
Address
Day time contact number (no call-barring)
Up to date medical history
The need for an interpreter if required (specify language)
Details of any medical consultants/specialists/paediatricians involved in child's care
Copy of any relevant radiographs
Information on any previous treatment provided
Charting of carious teeth.
In order to ensure appropriate prioritisation the following clinical details are also required:
Indication of urgency (e.g. pain or swelling)
Indication of anxiety
Recent treatment attempted (e.g. failed extraction under local anesthesia).
Access to the Paediatric Dentistry GA or sedation services
Access to the Paediatric Dentistry GA or sedation services
Referrals for extractions under General Anaesthesia or sedation, should follow the guidelines published by the GDC in Maintaining Standards. Guidance to Dentists on Professional and Personal Conduct. 1997; Paragraph 4.18;
"Clear justification for the use of General Anaesthesia , together with details of the relevant medical and dental histories, must be contained in the referral letter".
Further Information may be found on the General Dental Council web site
Emergency/Acute Referrals
The Department provides an Emergency service only for children with acute pain, infection, bleeding or acute dentoalveolar injury. This service operates weekday mornings only (except public holidays) and patients should be advised to arrive between 8:30 to 9:00 am, as the service works on first come, first served basis. Each case is assessed for urgency and prioritized by a triage nurse. Extreme cases (i.e. severe extra oral swellings, avulsed or severely displaced teeth may be referred via telephone call to the Department on 0161 275 6707.
Inappropriate/ inadequate referrals will be returned. Your compliance with the above guidelines will avoid unnecessary delays in patient care. Thank You.
Whenever possible please use the referral form available.