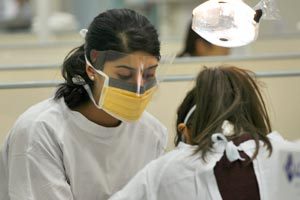 This regional service provides and co-ordinates care for all people born with a cleft lip and/or palate in Greater Manchester, Lancashire, south Cumbria and north east Cheshire. Outpatient services are provided at Manchester Dental Hospital and inpatient care takes place at a number of hospitals but primarily at Booth Hall Children's Hospital.
The service is provided by a multi-disciplinary team of plastic surgeons, oral and maxillofacial surgeons, health visitors, orthodontists, speech and language therapists, audiologists, children's dentists, restorative dentists, psychologist, geneticist and medical and dental nurses. A dedicated administrative team supports the service.
Newborn babies with clefts are referred directly by maternity units. The service then co-ordinates care for the child as it grows and people remain with the cleft service until they reach young adulthood.
The service also sees children without a cleft but who have other problems with their palate. We also see adults with clefts who are having continuing problems or who wish to improve their appearance.