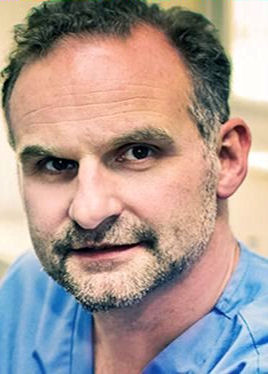 Professor Craig Barclay
Consultant in Restorative Dentistry/ Honorary Professor in Maxillofacial Rehabilitation
Qualifications
PhD FDSRCS BDS
---
Special Interests
Endosseous implant-supported oral rehabiliation with prosthesis/dental restorations; 3D computer planning; specialist preventive dental care for cancer patients.
---
Biography
Craig qualified BDS in 1986 from Glasgow, and took up his current NHS consultant post at Manchester in 2002. He is a Consultant in Restorative Dentistry and Honorary Professor in Maxillofacial Rehabilitation, Associate Dental Postgraduate Dean for Specialist Training and Director of Education for Manchester Dental Education Centre.
He has published over 50 refereed papers, written three books and has lectured both nationally and internationally on head and neck cancer and dental implantology.
He is the clinical lead for Central Manchester in Oral Rehabilitation of Oral Oncology patients, and was one of the national assessors for the National Cancer visits in 2009.
He is the Chair of the National Recruitment Team for Restorative Dentistry, run by Health Education North West. He is Director of Education of Manchester Dental Education Centre (Mandec) and was a past President 2009-2010 for the British Society of Prosthodontics (BSSPD), and past Director of the MSc implant programme at the University of Manchester. He is the past chair of the Intercollegiate Speciality Fellowship Examination, and sat on the Council of the Royal College of Physicians and Surgeons of Glasgow and is currently a MRD Examiner.
He has won two NHS North West Innovation Awards in 2008 and 2009 and was awarded a MAHSC Chair in June 2014 in the field of Maxillofacial Rehabilitation.