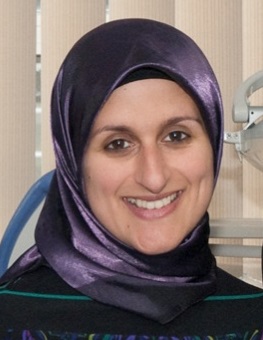 Dr Sarra Jawad
Consultant in Restorative Dentistry
Qualifications:
BSc (hons), BDS (hon), MFDS RCSEng, FDS (Rest Dent) RCSEng
Special Interests:
Implant Dentistry, Hypodontia, Toothwear, Adult Cleft lip and Palate Rehabilitation
Biography
Sarra Jawad was appointed Consultant in Restorative Dentistry at the University of Manchester Dental Hospital in July 2017. She qualified in 2004 from King's College London, having intercalculated a BSc in Basic Dental Sciences with Physiology in 2001. She has a varied clinical background, having worked in Community Dentistry, General Practice and the Hospital Services. Sarra is nearing the final part of her PhD studies, which has involved a randomised controlled trial looking into the use of mini implants in the edentulous mandible. Her dental interests include dental implants, toothwear, cleft rehabilitation and hypodontia. In addition to her role in Manchester, Sarra is an examiner for the Royal College of Surgeons of England, and a regular reviewer for the Journal of Prosthodontics. She is a member of the British Society of Prosthodontics (BSSPD) and lectures for HEE Northwest and Yorkshire and the Humber.