Manchester University NHS Foundation Trust (MFT) is marking Organ Donation Week with some safe and socially-distanced celebrations at a number of its different hospitals.
Organ Donation Week, which this year takes place 7th-13th September, aims to shine a light on the generosity of donors and the incredible impact they have on transplant recipients. The week is an opportunity to educate, inform and inspire people in order to help save and improve more lives.
MFT is responsible for some of the busiest and most highly-regarded organ donation and transplantation services in the country, and so always makes sure to celebrate the week. This year however due to safety restrictions around COVID-19, the teams have had to find some creative ways to mark the occasion.
These include 'going pink' in recognition of the week. Sections of Manchester Royal Infirmary and Wythenshawe Hospital are lighting up pink in the evening, the colour of organ donation, and banners have also been put up across some sites to bring attention to the cause.
The celebrations also included a professional abseiling display down the front wall of Royal Manchester Children's' Hospital. Yesterday (10th September), individuals dressed as vital organs abseiled down the building, representing the journey these organs take to MFT hospitals.
Richard Montague, Medical Director at Wythenshawe Hospital, part of MFT said: "MFT's hospitals have a strong track record of commitment to the lifesaving services of organ donation and transplantation. Wythenshawe Hospital's Heart and Lung Transplant Unit is the specialist centre for heart and lung transplant operations for the entire North West of England, serving a population of over 6.5million. It's one of only six heart transplant units in the UK and one of five to perform lung transplants."
"These lifesaving transplants wouldn't be possible without the vital work of our organ donation and retrieval teams, and the gift of organ donation from deceased donors, so we're very pleased to take the opportunity to honour them this week."
MFT has a team of dedicated nurses, doctors and support staff tasked with ensuring every opportunity for organ donation is facilitated sensitively and safely for patients who reach the end of their lives.
Dr Jon Simpson, Medical Director at Manchester Royal Infirmary, part of MFT said: "We're delighted to be able to spend this week bringing attention to the importance of organ donation. The Manchester Renal Transplant Unit (RTU) at Manchester Royal Infirmary performs more transplants than any other hospital in the UK, none of which could go ahead without the generosity of organ donors."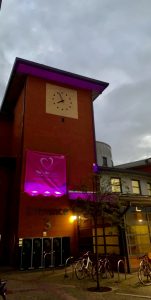 Following the introduction of Max and Keira's Law in May 2020, all adults in England are now considered as having agreed to donate their own organs when they die unless they record a decision not to donate (known as 'opting out') or are in an excluded group.
Matt Lavery, Director of abseiling company Orb Rope Access said: "It's a great pleasure to be working with MFT, especially for such an important reason. We're thrilled to have been able to help celebrate the vital work organ donors do in our own unique way."