Relocation of Antenatal Services from Withington Community Hospital
As we work towards returning to normal activity safely and securely, we have been required to make changes to the locations of where some of our antenatal services are provided.
In order to maintain our services for women as locally and conveniently as possible, as of Monday 14th September 2020 the following changes have been made:
Community midwifery has relocated from Withington Community Hospital to The Borchardt Medical Centre, 62 Whitchurch Rd, Withington.
Consultant and midwifery led antenatal clinics have relocated from Withington Community Hospital to Trafford General Hospital, Moorside Road, Davyhulme.
Blood tests for gestational diabetes are now accessible from Wythenshawe Hospital, Southmoor Road, Wythenshawe.
For more details on these changes and how they affect you, we encourage you to contact your Community Midwife (0161 291 2942)
We made these difficult decisions to ensure we are minimising the risk of transmission of COVID-19  in order to protect the safety of our service users and our staff. We thank you for your co-operation and understanding at this time.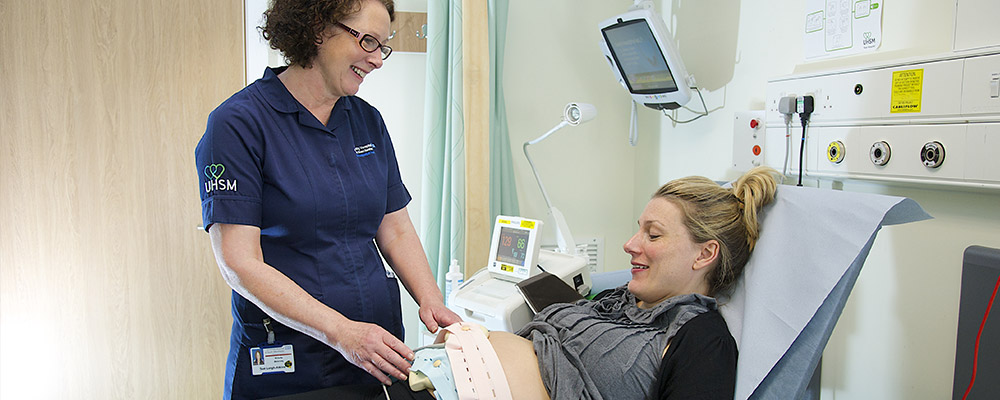 If you have had a positive pregnancy test, we recommend that you access maternity care as soon as possible via your GP or Community Midwife, who will complete the necessary referral into maternity services.
Accessing Maternity Services
Early access to maternity care is important to ensure that all the appropriate care options are discussed, including all antenatal screening options.  This is really important for you and your baby's health.
As soon as you find out you are pregnant, please email  community.clerks@mft.nhs.uk and we will send you a form within 3 working days to complete and return back to us via email. If you are unable to contact us via email you can contact us on 0161 291 2942. You will then be offered a booking appointment with a midwife.
FAQs
Daycare Assessment and Triage
The Daycare Assessment and Triage Unit at Wythenshawe Hospital is staffed by midwives and healthcare workers who see women who are 16 weeks pregnant onwards. If you have reduced fetal movements, pains, suspect you are in early labour, have any vaginal bleeding, or suspect that your waters have broken, you should refer yourself to Triage. The number to call is: 0161 291 2724.
The unit is open 24 hours a day, seven days a week. You can either call directly or your GP or midwife might refer you to us. Triage staff will be able to assess you on the phone and give advice on whether you need to come in to the unit, stay at home, or be seen by your GP if you have not already done so.
Maternity Triage can be a very busy area and patients are seen on a priority of care basis. Your patience is very much appreciated and we aim to see everyone as soon as possible. If you do not understand what is happening to you or you have any worries or questions, please ask a member of staff.
If you are in the first 16 weeks of your pregnancy and are not sure how serious your symptoms are, you can call our Early Pregnancy Assessment Unit on 0161 291 5060 for advice.
Here is some more information about what to do if you are worried about your pregnancy: https://mft.nhs.uk/saint-marys/patients-visitors/worried-about-your-pregnancy/
Antenatal Ward C3
Ward C3 is a specialist 16-bed antenatal ward in Wythenshawe Hospital's Maternity department for women who have problems during their pregnancy and need hospital care. You might be admitted to Ward C3 to monitor problems involving pre-eclampsia, bleeding, early labour, or if you are having labour induced.
The Ward is staffed 24 hours a day by midwives who are supported by a Health Care Assistant and on-call junior doctors and consultants where needed. If you have any concerns about your pregnancy, please do not just turn up at Ward C3 – you will be transferred to the ward if you need to be monitored. Instead, please call Antenatal Reception on 0161 291 2951 and we will be happy to advise you.
Induced labour also takes place on Ward C3. An induced labour is not a quick process and can take 2-3 days. If your labour is being induced, please be patient. Our team on Ward C3 are trained and experienced to deal with induced labour and will monitor your baby's wellbeing and ensure you are kept comfortable and while you are waiting.
If you are visiting someone on Ward C3, please see check our visiting hours for times and rules we to follow to make sure we keep our maternity unit as calm as possible for patients and staff.
We also run an Antenatal Partners' Service to assist the partners of pregnant women to make the transition to parenthood. The service gives partners the opportunity to have their own issues and questions addressed confidentially. Ask a member of staff for more information about this service.
What to do if you have problems during pregnancy