COVID-19 Maternity Advice
Read more
Our team provides maternity, gynaecology and newborn intensive care (neonatal) services at three main locations, including Wythenshawe Hospital. Patients have access to the wide range of expertise and services provided by the Saint Mary's team, and a choice about where they want to receive care and treatment.
Wherever you are treated, the Saint Mary's team is proud to provide the highest standards of care for patients and their families from the North West and beyond.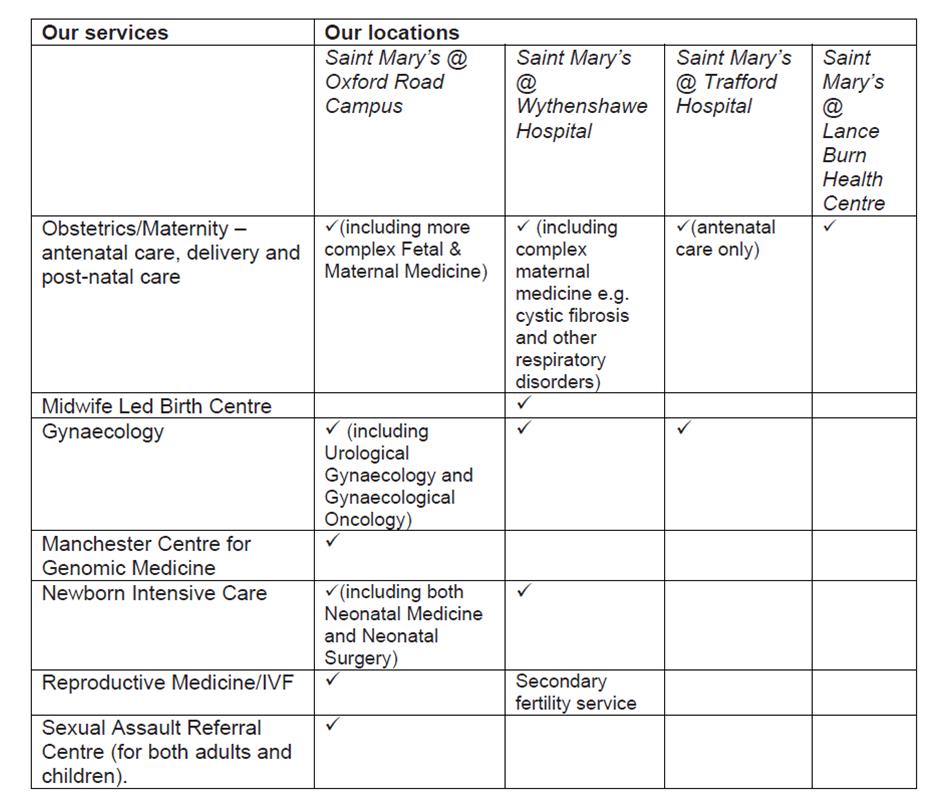 Saint Mary's also runs a general antenatal clinic at Lance Burn Health Centre for women who live in the Salford area.
Our maternity service is led by obstetrics and gynaecology consultants. Obstetrics is the branch of medicine which looks after the healthcare of women before, during, and after childbirth, including care of newborn babies. Gynaecology deals with the health of women's reproductive systems.
If you choose to give birth at one of our Trust hospitals, the highly skilled and caring Saint Mary's team will support you to have the most healthy and smooth pregnancy and birth possible. Each month, our staff deliver more than 1,000 babies across two hospitals.
At the Wythenshawe site we offer both a midwife-led Birth Centre and a consultant-led Delivery Suite. Facilities include the largest number of birthing pools in the country, making this unit a popular choice for women wanting to find out more about having a water birth.
Having your baby at Wythenshawe Hospital
We want to make your maternity experience as straightforward as possible.
Once you have had a positive pregnancy test please register by emailing community.clerks@mft.nhs.uk and we will send you a form within 3 working days to complete and return back to us via email. If you are unable to contact us via email you can contact us on 0161 291 2942.
Find out more about the different care we offer during and after your pregnancy below:
Antenatal care – getting ready for your delivery
Antenatal clinics focus on the medical side of pregnancy and ensure you and your baby remain as healthy as possible during pregnancy, labour and the birth. Once you have decided to give birth at Wythenshawe Hospital, you will be allocated one of our specialist midwives who will help arrange your antenatal care.
Giving birth – home births, the birth centre and delivery suite
Women with low-risk births can choose to give birth at home or in hospital. Your midwife will be able to talk you through home birth and arrange this if appropriate. If you choose to give birth in hospital, you will be admitted to our midwife-led Birth Centre. High risk births are delivered in our consultant-led Delivery Suite.
Postnatal care – what to expect after your baby is born
After giving birth at the Birth Centre at Wythenshawe, around 70% of women are discharged home.  Some patients may be transferred to one of our wards to recover and get ready to be discharged from hospital.  We will be on hand to check that you and your baby are healthy and provide any treatment and support you need before going home.
Post-discharge care – starting your life together
The weeks and months after you give birth are extremely important in terms of bonding with your baby and making sure you are both progressing well health-wise. After discharge, your Community Midwife will visit you to make sure you are recovering well too, answer any questions and arrange any extra treatment or support you need.
Birthing Centre @ Wythenshawe Hospital
Consultants
Mr Sean Burns – Oncology Lead
Mr Theo Manias – Deputy Clinical Head of Division, Gynaecology
Mr Andrew Pickersgill – Consultant Obstetrician and Gynaecologist
Miss Toli Onon – Group Medical Director
Mr Rohit Arora – Benign Gynaecology Lead
Mrs Anjali Ahluwalia – Consultant Obstetrician and Gynaecologist
Mr Hani Shuheibar – Ambulatory Gynaecology Lead
Miss Mrinal Shah – Coloscopy Lead
Dr Swapna Ramasubramanian – Undergraduate Lead
Dr Claire Noor – St Mary's Lead for Antenatal Day Care and Triage
Dr Debika Bandyopadhyay – Locum Consultant
Dr Elaine Church – Clinical Lead for Obstetrics
Miss Akila Anabhazagan – Obstetric Governance Lead
Dr Andrea Pilinton – Clinical Speciality Tutor
Dr Ghazia Saleemi – Labour Ward Lead