Please do not hesitate to ask for assistance with feeding your baby.
Breastfeeding gives your baby the best possible start in life and benefits you too.
Breastmilk is the best form of nutrition for babies as it has all the nutrients a baby needs.
Breastfeeding helps to protect your baby from infection, because antibodies are passed into the breastmilk.
Breastfeeding reduces the mother's risk of breast cancer and ovarian cancer.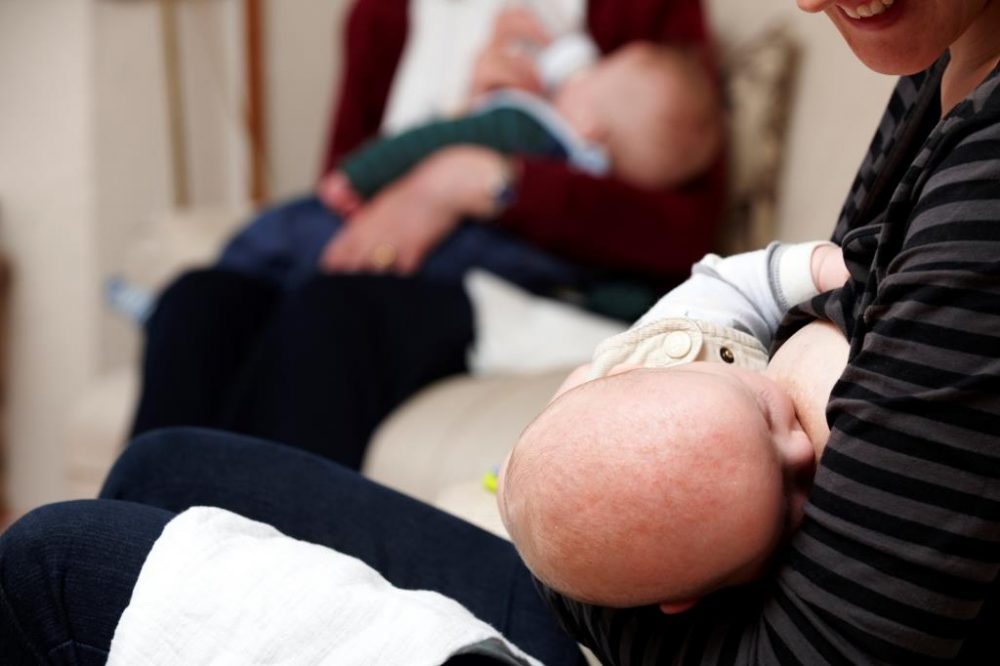 If you are using drugs or alcohol, or are prescribed Methadone or other medications, it does not mean that breastfeeding is inadvisable – specialist advice is always available to help you give your baby the best start in life.
Your midwife is there to offer you help and support with your choice of feeding method for your baby both whilst you are still in hospital and after you have been discharged.
We also have a
breastfeeding helpline
available
Monday-Friday, 8.00 am – 4.00 pm
 which offers advice on breastfeeding for pregnant women and mothers after discharge from hospital.
Tel: (0161) 276 8910
Planning to formula feed your baby?
If you choose to not breastfeed you will need to bring enough pre-packed bottles of a readymade newborn formula into hospital with you to last for your stay.
In order to reduce the risk of infection to your baby we recommend that you purchase at least one 'starter pack' of first infant milk containing 6 bottles and 6 teats.  These are disposable, sterile, single use bottles and provide the safest option when formula feeding you baby whilst in hospital.
Saint Mary's Hospital does not hold a supply of formula milk so it is important that you purchase this starter pack in advance of coming to hospital to have your baby.  You can buy them from most local supermarkets.
Please note that we are unable to store opened formula milk on the wards so please do not bring in a large bottle of milk for your baby.
When
Where
Contact
Thursdays
1.00 pm-2.00 pm
Ardwick Sure Start Centre
Medlock Primary School
Wadeson Road
Ardwick M13 9UJ
0161 219 6634
Tuesdays
10.00 am-11.30 am
Chorlton Library/ Children's Centre
Barlow Moor Road
Chorlton M21 9PN
0161 860 6039
Wednesdays
1.00 pm-2.00 pm
Harpurhey Children's Centre
North City Family and Fitness Centre
Upper Conran Street
Harpurhey M9 4DA
0161 277 1930
Wednesdays*
1.00 pm-3.00 pm
Levenshulme Children's Centre
Broom Avenue
Levenshulme M19 2UH
 0161 277 1930
Thursdays**
9.30 am-11.30 am
Breast Start (formerly Baby Café)
Moss Side Sure Start Centre
30 Selworthy Road
Manchester M16 7UH
Tel: (0161) 276 8910
Monday-Friday, 9.00 am-5.00 pm
Answerphone also available.
First Monday of the month***
1.00 pm-3.00 pm
Woodhouse Park Children's Centre
Ringway Primary School
Dinmoor Road
Wythenshawe M22 1NW
0161 499 0525
Mondays
1.00 pm-3.00 pm
Old Moat Children's Centre,
Old Moat Lane,
Withington M20 1DE
 0161 291 5461
*For pregnant women and new mums who have chosen to breastfeed. Meet other mums and get help and advice from a midwife
**A drop in group for pregnant women and new mums who have chosen to breastfeed. A midwife is present every week for advice and support.
***Run by Barnardo's peer supporter.