Please do not hesitate to ask for assistance with feeding your baby.
Breastfeeding gives your baby the best possible start in life and benefits you too.
Breastmilk is the best form of nutrition for babies as it has all the nutrients a baby needs.
Breastfeeding helps to protect your baby from infection, because antibodies are passed into the breastmilk.
Breastfeeding reduces the mother's risk of breast cancer and ovarian cancer.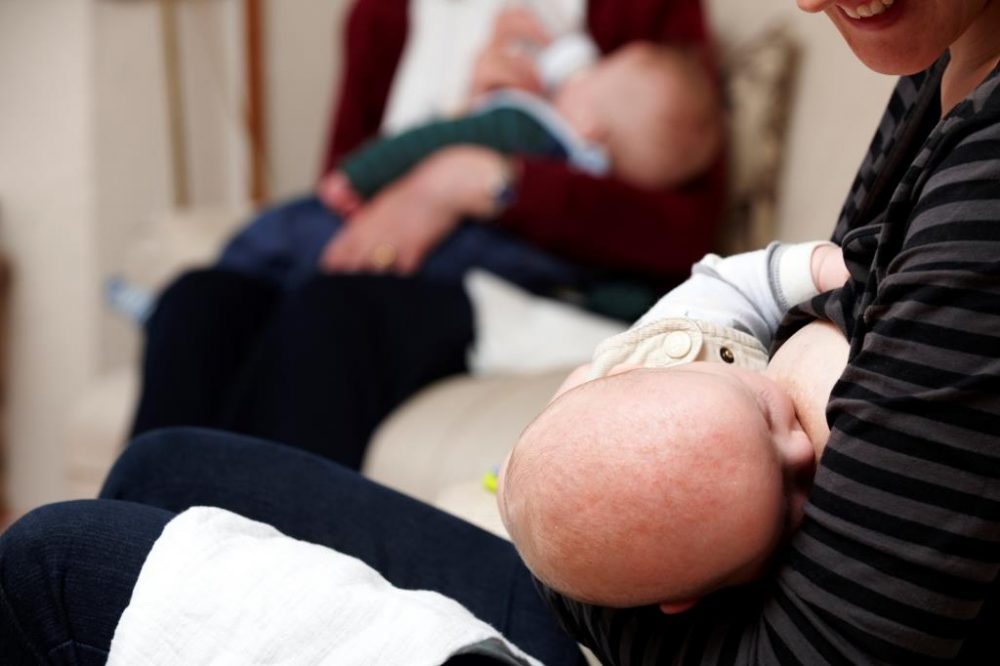 If you are using drugs or alcohol, or are prescribed Methadone or other medications, it does not mean that breastfeeding is inadvisable – specialist advice is always available to help you give your baby the best start in life.
Your midwife is there to offer you help and support with your choice of feeding method for your baby both whilst you are still in hospital and after you have been discharged.
We also have a
breastfeeding helpline
available
Monday-Friday, 8.00 am – 4.00 pm
 which offers advice on breastfeeding for pregnant women and mothers after discharge from hospital.
Tel: (0161) 276 8910
Planning to formula feed your baby?
If you choose to not breastfeed you will need to bring enough pre-packed bottles of a readymade newborn formula into hospital with you to last for your stay.
In order to reduce the risk of infection to your baby we recommend that you purchase at least one 'starter pack' of first infant milk containing 6 bottles and 6 teats.  These are disposable, sterile, single use bottles and provide the safest option when formula feeding you baby whilst in hospital.
Saint Mary's Hospital does not hold a supply of formula milk so it is important that you purchase this starter pack in advance of coming to hospital to have your baby.  You can buy them from most local supermarkets.
Please note that we are unable to store opened formula milk on the wards so please do not bring in a large bottle of milk for your baby.
Infant Feeding Support Manchester
If you would like some support with breastfeeding or to meet other breastfeeding mums please come to one of our drop in sessions listed below which are run by a midwife or senior healthcare worker from MFT. Come along for a chat, relax and get information and support for breastfeeding. 
 Monday 10am-12pm, Library, Wythenshawe Forum,
Simonsway, Wythenshawe, M22 5KX.  Tel: 0161 227 3770
Monday 1pm-2.30pm, Old Moat Children's Centre
Old Moat Lane, Withington, M20 1DE.  Tel: 0161 234 4711
Tuesday 11.00am-12.30pm Chorlton Library Sure Start Centre
Manchester Road, Chorlton, M21 9PN.
Tel: 0161 860 6039
Thursday 12pm-2pm, Wythenshawe Maternity Unit, Antenatal Clinic entrance, Southmoor Road, Wythenshawe, M23 9LT,
Tel: 0161 291 2951 
Wednesday 1.30-3pm, Benchill Sure Start Centre, Lyndene Road, Benchill, M22 4PZ
Tel: 0161 998 7280
Drop ins:
Trafford
All mums are welcome at our friendly breastfeeding drop-in sessions, which offer help, support and information on a range of issues, there is a breastfeeding specialist at each session.
Tuesday 10am-12 noon
The Trafford Centre
Debenhams Restaurant (First Floor)
Car Park Regent 13 and 14
Wednesday 9.15am-11am
Partington Children's Centre
Central Road
Partington M31 4FL
Tel: 0161 912 2122
Thursday 10am-12 noon
The Life Centre
Café 56
235 Washway Road M33 4BP
Friday 1pm-3pm
Stretford Children's Centre
Poplar Road, M32 9AN
Tel 0161 912 5020
Alternatively you can contact Jackie Hall – NHS Trafford Infant Feeding Coordinator on 0789 448 9937
North Manchester
Wednesday 1pm-2pm
Harpurhey Children's Centre
North City Family and Fitness Centre
Upper Contran Street,
Harpurhey
M9 4DA               Tel: 0161 205 0830
Central Manchester
Thursday 1pm-2pm
Ardwick Sure Start Children's Centre
Medlock Primary School
Wadeson Road
Ardwick M13       9UJ   Tel: 0161 871 2619
Thursday 9.30-11.30
Moss Side Sure Start Children's Centre
30 Selworthy Road
M16 7UH            Tel: 0161 226 0162
Wednesday 1pm-3pm
Levenshulme Children's Centre
1 Broom Avenue
M19 2UH            Tel: 0161 219 2958
Further breastfeeding support resources
www.unicef.org.uk/babyfriendly—The Unicef UK Baby Friendly Initiative supports breastfeeding and parent infant relationships by working with public services to improve standards of care. Site offers evidenced based information and videos for parents.
nhs.uk/start4life/breastfeeding – this is the link to the Breastfeeding Friend voice search service through Google Assistant and Google Home, Amazon Alexa and Facebook Messenger.  This service provides advice and support with breastfeeding during the first few weeks.
www.thebreastfeedingcompanion.com—80+ free evidence based supportive videos covering common questions for breastfeeding women
Sale Sling Library – Tesco Extra, Manor Road, Altrincham WA15 9QT, www.saleslinglibrary.co.uk see website for details.
Chorlton Sling Library – www.chorltonslingandsocial.com see website for details.
Infant feeding team
Oxford Road Campus – 0161 276 8910
St Mary's @ Wythenshawe – 0161 291 5461
For further information on Hand Expression, Storage of Breastmilk and Vitamin D supplements see the full version of the Off to the Best Start Leaflet  – www.unicef.org.uk/babyfriendly/baby-friendly-resources/leaflets-and-posters/off-to-the-best-start
National Breastfeeding Support Number:
0300 100 0212   –   9am to 9.30pm www.breastfeeding.nhs.uk
Breastfeeding Network www.breastfeedingnetwork.org.uk
La Leche League (LLL) (8am – 9.30pm)
Jeanette                       0161 355 8675 (daytime)
Helen                                      0161 439 3069 (evenings and weekends)
National Number:                  0845 120 2918
Helen also runs monthly LLL meetings for breastfeeding mothers.
Association of Breastfeeding Mothers
09.30am to 10.30pm – 0300 330 5453
NCT (National Childbirth Trust)
NCT National BF Support 0300 330 0700 8am-10pm
Breast Pump Hire
Jane Tuzio          0161 962 2146
Medela Pump Hire      0161 776 0400