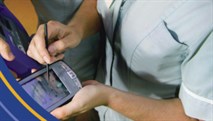 Ward 62 is a 40 bedded ward dedicated to the care of gynaecology patients.  We treat patients both from our local community and from across the region.
We care for women with a range of different conditions including:
Gynaecological oncology
Patients with early pregnancy problems (less than 20 weeks pregnant)
Infertility
General gynaecology
Urological gynaecology
General gynaecological emergencies
Women undergoing termination of pregnancy for social or medical reasons.
We have 32 in-patient beds and 12 day case beds.
We have an admissions lounge located on the ground floor of Saint Mary's where patients are seen prior to surgery and go directly to theatre then return to a bed on Ward 62 for their post-operative care.
Between 10.00 pm and 8.00 am (seven days a week) we also see all women with gynaecological emergencies on the ward.
We operate an enhanced recovery programme in which we encourage active recovery after major gynaecological surgery.
Our staff
In addition to the nursing and medical staff who will care for you during you stay, you may also receive additional support from:
Our ward Pharmacist, who is available during the week to support you with and medication issues and information with support from pharmacy technicians.
Physiotherapists, who will provide support as required on a daily basis.
Occupational Therapists, who visit weekly.
Location:
The ward is on the second floor of Saint Mary's Hospital
Visiting:
Visiting is between 2.00 pm – 4.00 pm and 6.00 pm – 8.00 pm daily (including weekends).  Please discuss with the ward manager or ward sisters if you require visiting outside of these hours.
Visiting is strictly restricted to a maximum of 2 people per bed and we advise against children visiting.
We also operate protected meal times between 12.00 pm – 1.00 pm and 5.00 pm – 6.00 pm daily.  Visitors are not allowed on the ward during these times.
Please note that flowers are not allowed on our wards due to the risk of infection.
Contact numbers:
(0161) 7016589
(0161) 7010023