Although being pregnant and having a baby is safer now than ever before, unfortunately some events are out of our control and are sometimes pregnancy does not have the happy ending that we had planned and hoped for.  It is always a very sad and difficult time when families are faced with unexpected loss in this way and leaves parents feeling vulnerable, angry and confused. Saint Mary's has a dedicated team of bereavement midwives able to help at this very difficult time.
Bereavement
Having a baby should be an exciting and wonderful chapter in our lives with dreams, expectations and plans for the future.  For many families that is the case but sadly in the UK 12,000 families a year will experience the tragic loss of babies either due to stillbirth, miscarriage or neonatal death.  This leaves many families and couples feeling vulnerable, angry, frustrated, alone, confused and devastated. Here at Saint Mary's we care for, on average, about 150 families a year who encounter this devastating and life changing experience.
Unfortunately, we can't take away the pain of loss, but we do all we can to support families at this difficult time.
We have recognised the huge impact that this can have on any family, and are committed to providing care and support to all families.  Therefore we have two dedicated bereavement midwives working on the Delivery Unit (Ward 64), the Neonatal Intensive Care Bereavement Team and a very supportive midwifery and obstetric team who are here to support you through this difficult time.
The bereavement midwives are Victoria Holmes & Lyndsey Evans.
Memories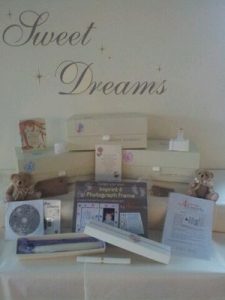 We have all had someone we know who has died and what helps us through grieving is sharing special stories and memories about them.  For many families, it is important to create as many memories and keepsakes as you can when your baby has died.  Many of the families we support often tell us how important it was to have photographs and other keepsakes especially to share with friends, family and children for many years to come.
Staff will therefore help to support you in making decisions about mementoes that is right for you.  We are lucky to have the support from the 4Louis charity, who kindly donates all our memory boxes.  We are mindful to have appropriate sized clothes, Moses baskets and hats, all of which are provided by local knitting clubs.
Families have found the following helpful:
Naming the baby.
Seeing and holding the baby.
Washing and dressing your baby.
Photographs and scan pictures.
Keeping name bands and the cord clamp.
Blankets.
Certificates of acknowledgement.
Teddy bears.
Holding a special blessing or ceremony.
Remembrance Book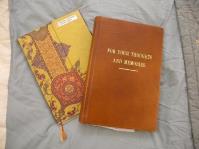 Saint Mary's has a remembrance book on the Delivery Unit (Ward 64) for parents to write about their baby and many of our parents have found this very helpful and even come back year after year to write in the book.
Spiritual support
The hospital Chaplaincy Service includes representatives from all faiths and they are here to support families in any way that they need. The team is committed to listening to parents and you don't have to be religious to talk to a member of the team. Many parents have found it useful to help them through this difficult time.
If you would like support from the chaplaincy you can contact them on: (0161) 276 8792.
Follow up
You will be invited back to the hospital for an appointment with the consultant to go over the events of your pregnancy, receive support and discuss results from investigations and post mortem results if you have consented to one. Depending on the types of investigations performed sometimes the appointments can be up to 12 weeks after admission to the hospital. Often these appointments are a stressful and emotional time for you and for this reason a member of the specialist bereavement team will attend these appointments to give you extra support. This is a useful opportunity for you to ask questions so make sure that you write down any questions you have, as sometimes they may be forgotten during the consultation. This may also be a time to think about the future, and make plans for support in future pregnancies.
Coffee morning
We hold coffee mornings for our bereaved families 3 or 4 times a year. These give families the opportunity to talk to other parents who understand what they are going through and to gain support.  The sessions also include craft making and times for reflection. The coffee mornings are held in very informal and comfortable setting and have proven to be so successful that many of the families have continued these friendships away from the hospital.
Baby memorial service
In June every year the trust hold our baby memorial service, parents are sent an invitation to attend this lovely service. Parents of all faiths and none are welcome to the service and it is often attended by several staff members.
Rainbow clinic
Saint Mary's runs a specialist clinic to support women and their families who have suffered stillbirths. You can find more information about this here.
Contact details
Saint Mary's Bereavement Midwives: Victoria Holmes & Lyndsey Evans: (0161) 701 5022
Bereavement Support Worker: Susan Stahl
Or e-mail: Bereavement.midwives@mft.nhs.uk
Family support: (0161) 701 8700
Support in helping children
When a new baby is expected in a family, most children are looking forward to the birth as much as everyone else.  Having to explain the loss of an unexpected baby brother or sister is an incredibly hard thing to do.  Here are some resources/publications that might help to support with this:
'Talking to children about miscarriage' – a Miscarriage Association leaflet
'We were going to have a baby, but we had an angel' instead – by Pat Schwiebert.
'All Shining in the Spring' – by Siobhan Parkinson
'Goodbye baby: Cameron's Story' – by Gillian Griffiths
Fathers feel too
Many men feel helpless and unable to express their feelings. Often this leads to them shutting down and not being able to communicate. This can often lead to couples feeling cut off from each other as it is hard to support each other when you need so much support yourself. Many fathers cry too but often put their own feelings to one side to support their partners. Here are some helpful resources to help fathers cope with the loss of their baby:
Fathers feel too, a book for men by men coping with the death of a baby By Andrew Don