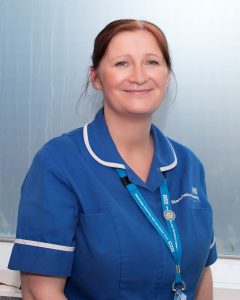 Please call the unit to discuss any concerns and we will advise you if you need to attend one of our units. Please have your pregnancy notes available if possible when you call.
Oxford Road Campus: 0161 276 6567
Wythenshawe: 0161 291 2724
If you are less than 16 weeks pregnant and have an urgent concern regarding your pregnancy, then please contact the Early Pregnancy Assessment Unit on 0161 291 2561. This assessment unit is based at Saint Mary's at Wythenshawe.
Please note: We are unable to see babies who are unwell in the Maternity Triage. If you have a concern regarding your newborn baby that cannot be addressed by your community midwife or GP, then you will need to take your baby to your nearest Children's A&E
When to contact Maternity Triage
Reduced Fetal Movements – Feeling movements is a sign of your baby's wellbeing. From around 28 weeks pregnant you should start to notice your baby's pattern of movements becomes more consistent. If you are concerned the pattern has changed at any time during your pregnancy, please do not wait and call the Maternity Triage department immediately.
This leaflet explains what care women should expect to receive when they report reduced fetal movements during each stage of your pregnancy.
If you think you are in labour – Labour is different for every woman but commonly starts with contractions or your waters breaking. Your community midwife will have discussed signs of labour and when to call the hospital with you towards the end of your pregnancy.
Your Waters Breaking – This is common during or shortly before the start of labour. Some women will find it obvious when the waters have broken, and some will be less sure. If you are not sure, you can place a maternity or sanitary pad in your underwear and observe any leaking fluid.
Please note if you had planned to birth your baby at the Manchester Birth Centre, Saint Mary's at Wythenshawe, please call: 0161 291 5317
The below links also provide some useful information:
https://www.nhs.uk/pregnancy/labour-and-birth/signs-of-labour/signs-that-labour-has-begun/
https://www.tommys.org/pregnancy-information/giving-birth/latent-phase-labour
Vaginal Bleeding – Please call Maternity Triage immediately for advice. A 'show' (the mucus plug) can start coming away from the neck of the womb (cervix) days (or sometimes weeks) before you go into labour. This will have a sticky, mucousy and blood-stained appearance and is completely normal. Fresh red bleeding however is not normal. If you are at all unsure please contact Maternity Triage to discuss this. If the bleeding is severe call 999 for an ambulance.
Please also call Maternity Triage if you experience any of the following: 
Itching on the palms of your hands or soles of your feet
Headaches and visual disturbances
Postnatal Concerns – Wound Care, Raised Blood Pressure, Fever, heavy bleeding, feeling unwell with flu-like symptoms, excessive pain or concerns about your perineal stitches or caesarean section wound
Assessment that cannot be provided by routine Community Midwifery appointment
Remember to consider how you will get to the hospital during your pregnancy.
Please consider using some of the following services if you have a concern that is not related to your pregnancy:
GP – Your GP can be accessed for a range of non-urgent services. You should see your GP for advice as they are better placed to help with these problems. For example, chest/urine/ear infection, skin complaints etc.
Walk in Centre – If your GP is closed or you cannot get an appointment then you can visit a Walk in Centre. You can visit a Walk in Centre for any general illness or concern for which you may have visited your GP. Walk in Centre's can be accessed by anyone and have more flexible opening hours. You can find your nearest Walk in Centre at: https://www.nhs.uk/Service-Search/other-services/Walk-in%20centre/LocationSearch/663
How do we assess your care on Triage?
If you are attending with an urgent concern, we aim to see you for an initial triage appointment with 30 minutes of arrival to carry out an assessment.
This will be completed by a midwife in a Triage room and will give you the opportunity to discuss your presenting concern with the midwife whilst providing further information such as your past medical and obstetric history. A full set of observations including blood pressure, heart rate and temperature will be performed, and you will be asked to provide a urine sample.
Assessment on Maternity Triage
From this initial assessment and the information, you provide, the midwife will assign you a colour coded urgency which ensures women are prioritised on the clinical need and immediate subsequent care, rather than the time they arrived.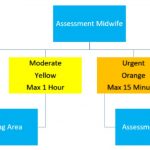 Red – Emergency – You will be seen and treated immediately
Orange – Urgent – You should be seen within 15 minutes
Yellow – Moderate – You should be seen within 1 hour
Green – Non-Urgent – You should expect to be seen within 4 hours
Waiting Times
During busy periods, waiting times may be increased. Some reasons for delay may be due to availability of Doctors, availability of rooms on Maternity Triage and may be due to Midwifery staffing levels.
We appreciate that visiting Maternity Triage may be a stressful time for you and your family. We also understand that waiting can be frustrating and so we do our best to keep waiting times to a minimum. Your patience is very much appreciated at this time as we aim to see everyone as soon as possible.
We recommend that you bring a drink and light refreshment in anticipation of any delays which may occur. Staff can advise you of the nearest place to purchase food and drinks. Fresh water is available in the waiting area.