At Saint Mary's hospital we have a dedicated team who care for pregnant women that have diabetes. Women who have Type 1, Type 2 and Gestational Diabetes have access to our diabetes service.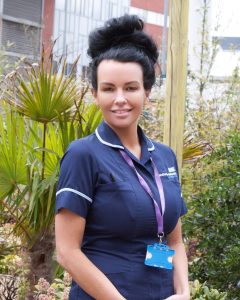 We have three diabetes clinics a week that are run by a multi-disciplinary team. At Saint Mary's Oxford Road Campus, the clinics run on Tuesdays (morning and afternoon) and Friday morning. At Saint Mary's @ Wythenshawe the clinic is on a Thursday morning and alternative Thursday afternoons.
The diabetes team consists of Diabetes and Obstetric Doctors, Diabetes Specialist Midwives, Diabetes Specialist Nurses, Dieticians and Health Care Support Workers. Additionally, we have phone call clinics, where we contact women at home to review blood sugar levels.
We also run a diabetes clinic run by a multi-disciplinary team at the Lance Burn Health Centre in Salford on a Tuesday afternoon. The clinic is run at Lance Burn so that women with Gestational diabetes can access care locally by the Saint Mary's team.
We also have a specialist diabetes research clinic called Velocity.
Type 1 & Type 2 diabetes in pregnancy
Having pre-existing diabetes and being pregnant can be a worrying time. Having diabetes means that you and your baby are more at risk of serious health complications during pregnancy and child birth. By engaging with the team you can reduce the risks involved which can help you feel supported and able to enjoy your pregnancy more.
Preconception Care
You may have already had preconception care to plan for your pregnancy. Evidence suggests that pre-pregnancy planning and optimising health before pregnancy reduces the risks associated with diabetes in pregnancy (increased risk of miscarriage, stillbirth, large babies, delivery complications, and congenital abnormalities). The key principles are:
Glucose control – aim for blood glucose levels to be as close to the non-diabetes range as possible. The target long term glucose level (HbA1c) in the pre-pregnancy period and during pregnancy is less than 48 mmol/mmol as long as this can be achieved without too many low (hypoglycaemia) readings. For women with Type 1 diabetes in particular, this also involves trying to minimise day-to-day glucose variability. Increasing the frequency of glucose testing, whether by finger-prick testing or continuous glucose monitoring, is an important step in improving glucose control to identify patterns and allow adjustment of treatments. Glucose targets in the pregnancy planning period are 5-7 mmol/l fasting, 4-7 mmol/l before other meals of the day and 5-9 mmol/l when testing at 2 hours after a meal.  If you would like more support with glucose monitoring and would like to consider having a continuous glucose sensor, please discuss this with your GP or diabetes team.
High dose Folic acid supplementation – 5mg once daily for 3 months prior to conception and up until the twelfth completed week of pregnancy is recommended to reduce the risk of neural tube defects such as spina bifida. This dose is only available on prescription.
Medication safety – for diabetes, metformin and/or insulin are the only medications considered safe in pregnancy. If you are on other medications for Type 2 diabetes, these will need to be reviewed with your GP or Practice Nurse. The medications sometimes need to be changed prior to trying for a pregnancy. We will also be able to offer you an appointment with the team at Saint Mary's Hospital to discuss plans for your medications before your pregnancy.
Ensure you are up-to-date with retinal screening.
Lifestyle modification:
aim to stop smoking before trying for a pregnancy.
aim for your weight to be as healthy as possible; this reduces many of the risks associated with pregnancy, independent of having diabetes.
These are some online resources about pregnancy planning that you may find useful:
Newly Pregnant?
If you are newly pregnant you can self-refer to our diabetes team or your GP or midwife can refer you. It is important that you have a referral to our team as soon as possible after you have found out that you are pregnant. Meeting you early in your pregnancy can help us work together to ensure that your blood sugar levels are as good as possible to help reduce the risks in your pregnancy. The diabetes team will be on hand to help support you through your pregnancy.
You can self-refer by calling the diabetes team on 0161 276 6408 (Saint Mary's Oxford Road Campus) or 0161 291 2959 (Saint Mary's @ Wythenshawe).
Please follow the links or scan the QR codes below with your Smartphone to access more information on pre-existing diabetes and pregnancy:
https://www.nhs.uk/conditions/pregnancy-and-baby/diabetes-pregnant/
Gestational Diabetes
Gestational Diabetes develops in pregnancy and usually goes away after the baby is born. It occurs when your body can not produce enough insulin to control your blood sugar levels due to the extra demands of pregnancy; therefore, you have an elevation in your blood sugar levels. Elevated blood sugar levels can affect your pregnancy and your baby's health. Elevated blood sugar levels can be controlled effectively with eating healthy foods, exercising and if necessary, by taking medication. The team will be supporting you through this journey and will be explaining each step as it comes along.
For women who have Gestational diabetes, once you have given birth to your baby your blood sugar levels usually return to normal. Women who have developed gestational diabetes have an increased risk of developing Type 2 diabetes. It is therefore important to continue with healthy eating and an active lifestyle going forward. It is also important to have checked blood test at your GP surgery 6-13 weeks after you have given birth to check for diabetes. This check should then be performed every year. Your GP will normally perform these checks for you.
Please follow the links below for more information about Gestational Diabetes:
http://www.nhs.uk/Conditions/gestational-diabetes/Pages/Introduction.aspx
https://www.womenwithgestationaldiabetes.com/practical_guides#healthy_eating
Scan this code with your Smartphone camera to open your

"Quick Guide" to GDM, which has further links to helpful resources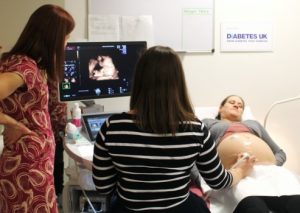 Velocity Clinic
Lead clinicians – Professor Jenny Myers & Dr Emma
Shawkat (Obstetrics) and Dr Clare Mumby (Diabetologist)
Lead midwife – Heather Glossop.
Diabetes specialist nurses – Jayne Hince and Alex Simms
Velocity is a multidisciplinary clinic designed to care for women whose pregnancies are complicated by diabetes. The diabetes team within the clinic work with women to try to control blood sugar levels as much as possible during pregnancy. Our specialists support women to use continuous blood glucose monitoring during pregnancy and provide remote and face to face support throughout.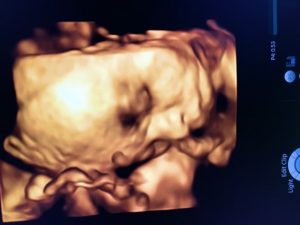 Uncontrolled diabetes can affect the growth of babies and therefore in the VELOCITY clinic we offer new methods of ultrasound to monitor baby's growth and wellbeing. Women are usually seen in the clinic from around 15 weeks of pregnancy and are seen every 1-4 weeks depending on how much care they need until the baby is born.
You may be offered the opportunity to participate in research when attending this clinic.  This is entirely voluntary, and declining would not affect your care in any way.  Please discuss referral to this clinic with your midwife.
Who Is the clinic for?
The Velocity Clinic is a specialist antenatal service for women with pre-existing diabetes (type 1 and 2 diabetes)
What our patients say about our clinic

We hope you have found this information helpful. Please feel free to contact the Diabetes Midwives if you have any further questions or concerns
Saint Mary's Oxford Road Campus: 0161 276 6408.
Saint Mary's @ Wythenshawe: 0161 291 4858