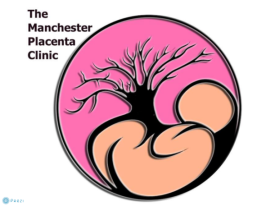 Lead clinicians – Professor Ed Johnstone and Dr. Louise Simcox
Lead midwife – Suzanne Thomas
The Manchester Placenta clinic (MPC) was established in 2009 to provide care for women at risk of fetal growth restriction (FGR) and with known FGR. The clinic is a recognised referral Centre for severe early onset FGR with placental abnormalities. Women are often referred here from other hospitals across the region. A first visit to placenta clinic is usually at 23 weeks but can be earlier. Women are offered a 'placental screen'; an assessment of fetal growth and placental function using uterine artery doppler (monitoring blood flow between mother and baby). This visit informs the pattern of care for the remainder of the pregnancy in line with Saving Babies Lives care bundle version 2.  Women diagnosed with early onset FGR attend the clinic for regular fetal and maternal surveillance and support during what is a very difficult time for the family usually resulting in premature birth.  Women and partners may be offered the opportunity to participate in research when attending this clinic, but this is entirely voluntary, and declining does not affect care offered.
Who is the clinic for?
Women who may be having a baby that is smaller than expected and may develop Fetal Growth Restriction (FGR).
Women whose baby is already known to be smaller than expected with known FGR.
What our patients say about the clinic