The maternal and fetal health research portfolio at Saint Mary's Hospital, (Oxford Road Campus and Wythenshawe campus) is extensive, including research into pregnancy problems such as pre-eclampsia, fetal growth restriction (FGR) diabetes, lupus and pre-term labour.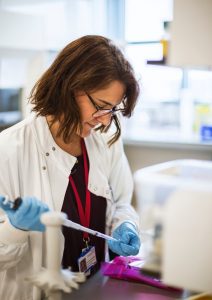 Working in partnership with The University of Manchester we utilise a breadth of research methodologies with the aim of improving maternity care and pregnancy outcomes. Saint Mary's has become known as one of the region's top centres for midwifery research and we are very lucky to have this facility in Manchester.
The centre hosts a number of research studies at any one time. These may be home grown studies, where we are the lead site, or they may be part of a national/international study for which ORC has been chosen to be one of the recruiting sites.
The Maternal & Fetal Health Research Centre at ORC is home to several specialist translational research clinics.  The clinics provide specialist antenatal care for women experiencing pregnancy complications, these include; Lupus in Pregnancy (LiPs), Placenta, Rainbow, Pre-term labour, Velocity and Manchester Antenatal Vascular Service (MAViS) clinics. Women attending these clinics receive high quality individualised antenatal care with small multi-disciplinary teams (as in the main department); in addition women are invited to take part in research studies,  each visit provides an opportunity to collect vital data to help inform our research and improve outcomes for women and their families.
The research centre is one of five centres in the UK which receives funding from the Tommy's charity. Tommy's is the largest charity funding research into miscarriage, premature birth and stillbirths. Unfortunately, as a developed country, Britain has a relatively high stillbirth rate, currently ranked 21st of 35 of the world wealthiest countries (Lancet Stillbirth Series 2016). Approximately 10 babies will be stillborn every day in the UK (Tommy's 2016). A lot of our work therefore is aimed at researching the causes of stillbirth and developing preventative measures. There are over 80 clinicians and scientists employed at the centre all working towards the same cause of reducing preventable stillbirths. Over the last 4 years our work has helped to reduce the stillbirth rate at SMH by 22%.
Examples of other sources of funding for our research activities include the National Institute for Health Research (NIHR) and through sponsor funding of individual studies.
You can find information about our current research studies here.
Please see this link for information about the Maternal and Fetal Health Research Centre, University of Manchester.