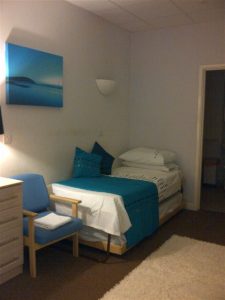 Our Neonatal Unit on the Oxford Road Campus has 5 bedrooms for parents to stay overnight to be close and spend time with their baby. However, the availability of rooms is very limited so priority will be given to:
Mums that are establishing breast feeding.
Mums and dads rooming in with their babies prior to discharge.
Mums and dads whose baby is extremely sick.
The Neonatal Unit at Wythenshawe has 2 bedrooms, in addition to the reasons listed above, the rooms can be used for parents who are not close to home.
If you would like to stay on the unit overnight, please ask the nurse who is looking after your baby.  If you are rooming in you will be given further information, and you will also be asked to sign a contract which will state the conditions of your stay.
Alternatively
For parents who live a long way from the Neonatal Unit on the Oxford Road Campus there is parents accommodation on the hospital grounds called Ronald McDonald House.  This is a 'home from home' service which is free of charge apart from a refundable £20 deposit.
Ronald McDonald House also caters for families with their children in the hospital.  A referral form is completed within the first couple of days of your baby's stay.  You will then be put on a waiting list.
Ronald McDonald House has 60 ensuite bedrooms over 5 floors, with kitchens, dining areas and communal areas.  Again if you have a room at Ronald McDonald House then there are conditions that you will have to adhere to; these will be explained to you when you have been given a room