Applications are now closed for the in house apprenticeship.
Our Apprentices hold an 18 month contract of employment with Manchester Foundation Trust. They work alongside experienced dental professionals within a variety of dental care settings to gain the experience required to achieve clinical competency. Whilst employed the apprentice will be placed within the clinical setting for four days per week and spend one day per week within the educational environment to undertake the theoretical studies to achieve the apprenticeship qualification. Apprentice's follow the Apprenticeship Framework which consists of a Level 3 Diploma in Dental Nursing, End Point Assessment and a Level 2 Functional Skills in Maths and English if required. If the Apprentice holds a grade 4 or above English and Maths (or equivalent) qualification they will be exempt from the Functional Skills component of the Framework.
Once they have successfully completed all of the elements of the framework they will receive the qualification and be able to register with the General Dental Council.
This qualification equates to 48 credits.
January 2019 – July 2020 Apprentices in post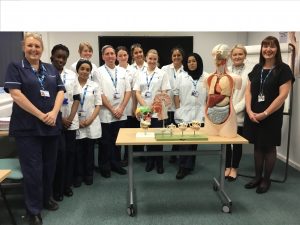 Apprentice Testimonies for the Apprenticeship Programme January 2019 – July 2020:
Would you recommend the apprenticeship programme at Manchester Dental Hospital?
" Yes! The course has been good so far. A lot of experience which I wouldn't get training in practice such as Oral Surgery, Community Settings, Orthodontics etc. All departments are under one building which is great! … The department I am working on is very supportive and answer any questions I have and explain things really well!"
" I would recommend this programme as I believe it has given me structure and given me an idea on how I would like to progress in future as before I joined the programme I was unsure as to what career path I would like to take."
" I would definitely recommend the apprenticeship programme at the Manchester Dental Hospital. I have learned a great deal in only a short amount of time. The teaching has been great and everyone has been really friendly and patient. I have also made some good friends."
" Yes, the team of Tutors and Assessors, as well as the Nurses and Dentists on clinic are very supportive. There is a lot to learn and engage with which makes each week different to the last. "
What are your plans and aspirations for the future?
" To move up within the career for example become a Senior Nurse. Once qualified and registered I would love to move up a band and probably become a Manager."
" Once qualified I would like to progress to include additional skills such as Phlebotomy and Radiography."
" I am hoping to complete this programme in July next year, after that I would like to stay in the hospital. I would like to do post qualifications and maybe even the Dental Hygiene Therapy course. "
" I would like to gain a post qualification in an area such as Oral Health or Dental Sedation."
Information and entry requirements for this programme:
Start Date: April 2021
Venue:
School For Dental Care Professionals
3rd Floor
University Dental Hospital of Manchester
Higher Cambridge Street Manchester
M15 6FH
Course outline & Requirements:
– 18 month programme
– Four days clinical exposure and one day theoretical study at The School for Dental Care Professionals
– Applicants must hold three GCSE's Grade 4-9 (or equivalent) in Maths, English and or Science (Health & Social Care will be accepted). We require at least 2 of the 3 certificates listed.
Vacancies:
Applications can be completed through the following link http://jobs.mft.nhs.uk/vacancy/2809943
For further information please contact Wayne Thomas, Dental Liaison Officer at the School for Dental Care Professionals.
Tel: 0161 272 5670
Email: wayne.thomas@mft.nhs.uk
Administration email: admin.dcp@mft.nhs.uk