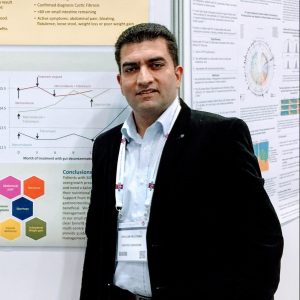 Dr Ghulam Mujtaba
Consultant in Paediatric Respiratory Medicine
Qualifications:
MBBS, DCH, MRCPI, FRCPCH
Special Interests:
I specialize in all aspects of paediatric respiratory medicine, including cystic fibrosis, asthma, wheezy infants, chronic cough, respiratory infections, flexible bronchoscopy, interstitial lung disease and sleep disordered breathing.
Biography
Graduated in 2000. I completed my basic specialist training and Specialist Registrar training in Paediatrics from Royal College of Physicians of Ireland from 2003-2013 with subspecialty training in paediatric respiratory. I did my clinical fellowship in Paediatric Respiratory in Great Ormond Street Hospital, London. I worked as a Consultant in Royal London (Barts Health NHS Trust), Our Lady's Children's Hospital Crumlin and Children University Hospital Temple Street, Dublin before joining Royal Manchester Children Hospital in 2016.
I am committed to provide a high-quality clinical and academic service for respiratory paediatrics to all of those who attend our service for investigation, care and management. To improve services for our patients and staff, I took up position of department lead for Paediatric respiratory medicine in December 2020. I am currently also lead for interstitial lung disease in children and audit activities in department. I also jointly lead CF department and provide care for one of the largest CF centres in UK with shared care CF services in many regional centres. I have developed various guidelines both for CF and respiratory service. I have presented at European Cystic Fibrosis Conference and continue to recruit for various national and international clinical trials where I am Co-investigator. I have been an invited speaker at regional, national and international conferences and I am also clinical and educational supervisor for paediatric and respiratory trainees at RMCH.
I have also been honorary clinical lecturer for university of Manchester and currently acting as academic advisor for medical students. I am a member of British Paediatric respiratory society, European Respiratory society and European Cystic Fibrosis society
Secretary Joanne Dempsey 01617015093 joanne.dempsey@mft.nhs.uk