Welcome to Manchester Foundation University Hospital Trusts Specialist Children and Young Person's Mental Health Services, (CAMHS)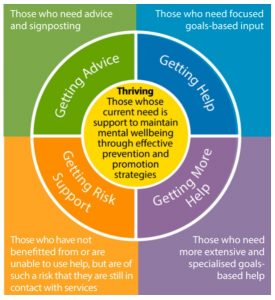 CAMHS are specialist NHS mental health services for children and young people. We offer assessment, diagnosis, treatment and support for young people who are experiencing problems with their emotions, behaviour or mental health.
MFT CAMHS are a large CAMHS providing specialist Services across Manchester, Salford and Trafford. We offer a wide range of service and specialisms (see service links)
To ensure a children young people and families are receiving the right care at the right time in the right way,  MFT CAMHS are using a framework called I-Thrive.
Find out more
MFT CAMHS have developed a children and young people's (CYP) mental health support plan that outlines steps to support CYP through COVID-19, in which mental health needs are anticipated to increase significantly. We are therefore asking you to work collaboratively with us, your local communities and partners to support  children and young people's (CYP) emotional wellbeing and mental health. Within this approach where possible we encourage everyone to support young people needs and protect the NHS CAMHS to focus on complex needs within our limited resources.
We recognise as our partners you find yourselves operating in an increasingly challenging environment. The partnerships we have created together for CYP, with local authorities, the third sector and other parts of the health system are central to successful delivery of this plan and need to be maintained and built on. We must make sure that over the next few months we work together to  manage the expected surge in mental health needs.
Manchester University NHS Foundation Trust Aims to treat everyone
EQUALLY by Treating people according to their needs.
By respecting DIVERSITY – ensuring People's abilities, beliefs, cultures, experiences, lifestyles, ideas and views are respected and are allowed to be heard, and insuring
INCLUSION –Taking an approach where we consider people, their diversity, their experiences, their preferences and their abilities. It is about healthcare that understands and meets people's diverse needs. And where staff can be themselves and feel that they can contribute their views, which are valued, and are able to perform to their full potential.