When you first become unwell, or learn that you have a health condition, it can feel scary.
Getting used to your health condition can involve:
Finding ways to fit treatment into your life
Learning the tricky words and names of your health condition
Letting other people know how they can help you
Not letting your health condition take control of your life
Finding ways to enjoy your life despite having a health condition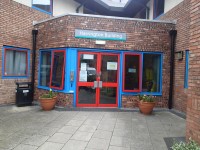 We are a team of:
Psychologists
Psychiatrists
Psychotherapists
Mental Health Practitioners
Consultant / Specialist Adviser in Autism and Learning Disabilities
Secretaries and administrators
We work with children and young people who come to RMCH and have a physical health condition.
We might see you when you come to the hospital. Or, we might see you at the Harrington Building.
How We Can Help
Physical health conditions can affect:
Your mood
Your relationships
Your school work
The things you like to do
Our friendly team can:
Help you to understand the links between your physical health and your feelings
Help you to get used to your health condition
Help you manage procedures and treatments
Help you understand and manage your feelings
Offer you strategies to manage pain
Offer support at school
Types of Appointments
Assessment: Getting to know you and what's important in your life.
Neuropsychological Assessment: Playing games and puzzles to help understand you
Talking Therapies: Helping you to find ways to live the life you want to.
Group Work: Meeting other people who have similar challenges to you.
Parent Support: Helping your parents understand how your feelings can affect your daily life
What can I do?
Remember that you are not on your own
Find someone you trust to talk to about how you are feeling
Try to get into a routine of doing your treatments
Know that your medical team are there to help
Don't be afraid to ask questions
Focus on how far you have come
Getting used to something new can take time.
Sometimes it will be easier than others.
Tree of Life Groups
When you are going through tricky times, you can forget about the things that are important to you.
Our Tree of Life group could help you to remember you skills, values, hopes, and support.
You meet other young people who are going through similar challenges.
We work together to think about ways to manage the challenging times that your health condition can bring.
If you would like to hear more about our group, then ask your clinician.


Where will my child receive treatment?
The majority of our appointments are offered on the first floor of the Harrington Building, on the Trust's Oxford Road campus. We also offer appointments on the wards, if your child is an inpatient at the hospital, or, if you agree, we may join your child at their hospital clinic appointments.
We do offer appointments at other locations – we work at the Sickle Cell and Thalassaemia centre near to the MRI, and offer appointments at North Manchester General Hospital for HIV, at Stepping Hill, Tameside and Macclesfield for Diabetes, and at Macclesfield for Chronic Fatigue.
We can also meet or complete assessments at schools and colleges.
How to see a member of the team
A member of your medical team may ask you if you would like to be referred, or you can request psychological support yourself by asking your medical team directly. If you would like to speak to us before an appointment is made, you can contact us on 0161 701 4512 or 0161 701 4514, Monday – Friday 9.00am – 5.00pm.