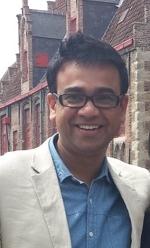 Dr Omendra Narayan
Consultant Respiratory Paediatrician, Associate Director of Medical Education, Associate Hospital Dean
Qualifications:
MBBS, MSc, FRCPCH
Special Interests:
Lead: Sleep and Long term ventilation; Medical Education
Biography
Dr Narayan qualified in 2002 and did his Paediatric specialist rotation at Great Ormond Street Hospital and Birmingham Children's Hospital, before joining Manchester Children's as a Consultant Respiratory Paediatrician in 2015.
He specialises in all aspects of paediatric respiratory medicine – namely any condition that affects a child's lungs and airways (breathing tubes /windpipe). He leads the sleep and long-term ventilation services at the children's hospital.
He is actively engaged in research and training and has widely published journals in peer reviewed journals. He has led many Clinical trials at the Children's Hospital and has presented in many national and international conferences. He is the Quality Advisor on RCPCH CSAC that delivers the national training in Paediatric Respiratory Medicine in UK. He is one of the Executive Committee Member at British Sleep Society and British Paediatric Respiratory Society.
Some of the new innovations by Dr Narayan's team include:
MDT clinic for children with Tracheo-Oesophageal Fistula (TOF)
Endobronchial Ultrasound in children (EBUS service)
Home Cardiorespiratory Sleep Studies
Greater Manchester Community Physiotherapy service
He is married and has two young children who keep him busy.
Secretary
0161 7010541
PA Krystina Redeyoff
krystina.redeyoff@mft.nhs.ukJoanne.biesty@mft.nhs.uk