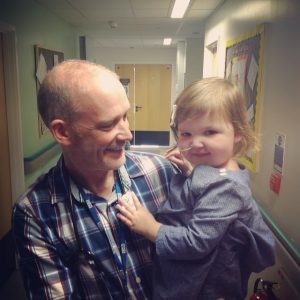 Professor Robert Wynn
Consultant Paediatric Haematologist & Director of Paediatric Bone Marrow Transplant Programme
---
Qualifications
BA (Cambridge 1986), MB BChir (The London 1989) MD (Cambridge 2000) MRCP FRCPath
---
Special interests
Blood and marrow transplant in paediatrics, especially in inborn errors of metabolism, Stem Cell Gene Therapy in Paediatric Haematology and metabolic disorders, HLH, Diagnostic Paediatric Haematology.
---
Biography
Rob was born in Sudan but brought up in Liverpool. He remains a season ticket holder and passionate supporter of Liverpool Football Club. He was educated at St Edward's College, Liverpool and did medical training at Cambridge University and The London Hospital Medical College. His post graduate medical training was in Newcastle and Edinburgh and his haematology training was in Cardiff and Manchester. He undertook specific paediatric transplant training in Toronto, Canada.
Rob's career was enormously influenced by the brilliant Professor Ed Wraith who inspired in him a lifelong interest in, and dedication to, children with inborn errors of metabolism and how they might be helped by stem cell transplantation. Manchester has an international reputation for clinical practice and research in this field. Manchester is one of the largest stem cell transplant centres in the work for metabolic disorders, and has contributed to improved international results and is contributing to advances in the field including in stem cell gene therapy.
He has written and edited several textbooks, including 'Pediatric Hematology: A Practical Guide' (Cambridge University Press) which is for students, families and doctors interested in this field. Rob has contributed many chapters and has written over 150 peer reviewed papers in these fields. He was appointed Honorary Clinical Professor of Paediatric Haematology and Cellular Therapy in 2013.