The Royal Manchester Children's Hospital (RMCH) Respiratory Team [pictured] has been shortlisted in the Acute Service Redesign Initiative category at the Health Service Journal (HSJ) Value Awards 2020, recognising their outstanding dedication to developing the first regional 'virtual' paediatric tuberculosis (TB) clinic in the UK.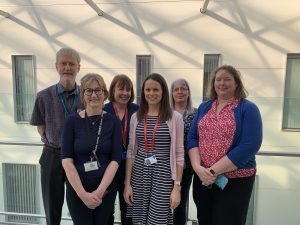 Paediatric TB is a serious, life threatening and disabling disease but with early diagnosis it can be completely cured. Since the launch of the clinic, the team have reviewed 82 patient referrals, with 65% of them resulting in changes to their diagnosis and management.
The clinic which has been running since November 2017, as part of a pilot in Greater Manchester is led by RMCH consultants; Fran Child and Louise Turnbull supported by a team of paediatric nurses, radiologists, admin support and a network manager.
The virtual clinic was initially developed by the team at RMCH to improve early diagnosis and save lives, and involves a range of specialists and North West Trusts including; TB nurses, adult and paediatric medical staff, Public Health England, commissioners and charity partners.
Across Greater Manchester there are up to 25 cases of paediatric TB a year, making it a very rare disease. Since the launch of the initiative, it has provided an opportunity for paediatric services to gain exposure to treating patients with this disease and developing a clinical pathway across the city-region and beyond.
The British Association of TB has shared the approach at RMCH across the country which has been replicated in three other areas of the UK.
Dr Frances Child, Consultant in Paediatric Respiratory Medicine at Royal Manchester Children's Hospital said: "This pioneering approach to treat children and young people with TB allows us to provide specialist care for children close to their home. It has had such a positive impact on our patients and it is a real honour to be recognised for the work we have achieved so far.
"To be shortlisted as a finalist for these awards, despite tough competition from hundreds of brilliant applicants, is a mark of real achievement for RMCH and the team and partners involved. We are looking forward to presenting our work at the panel later this month and attending the awards in May."
The increased collaboration of commissioning in Greater Manchester has enabled CCGs to fund the service based on TB prevalence in each area. Following national and regional interest, the service is developing plans to roll out across the North West.
The work involved in launching the virtual clinic was overseen by the North West TB Control Board and North West Paediatric Partnership Board and delivered by the North West Paediatric Allergy and Infection Network.
The winners will be selected following a rigorous, live panel judging stage ahead of the HSJ Value Awards 2020 awards ceremony, which is set to take place at Manchester Central on 21 May 2020.
For further information on the clinic, please contact: Suzanne.dixon@mft.nhs.uk