We provide specialist surgical care for neonates and children from the North West of England, other parts of the UK and abroad, as well as general surgery of childhood to the children of Greater Manchester and surrounding areas.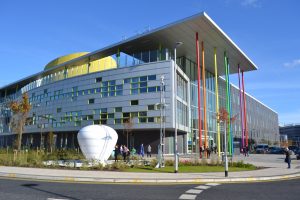 We treat children from birth to adolescence who may require surgery as part of their care. Our consultants have expertise in the many areas of paediatric and neonatal surgery, including the reconstruction of a wide range of birth defects, chest surgery, complex upper and lower gastrointestinal surgery, childhood cancer, inflammatory bowel disease and intestinal failure. The Department is one of only two units in the UK that performs pancreatic surgery for congenital hyperinsulinism. We also look after children with more straight-forward surgical problems such as inguinal hernias, undescended testicles, etc.
Outpatient clinics and theatres are run every day of the working week. Our in-patients are cared for on Ward 77 and our day case patients on Ward 76. Outreach services (clinics and theatre lists) are provided at Trafford General Hospital, Stepping Hill Hospital and Royal Bolton Hospital.
We are supported by a team of specialist paediatric nurses, pharmacists, dieticians, physiotherapists and other staff who are all dedicated to the care of children.
We support, and are supported by, teams of specialist Consultants in other disciplines where our children's care demands this – for example: intravenous nutrition and neonatal medical care.
We work with colleagues, as well as in local hospitals throughout the North West, to place the child and family in the most appropriate environment.
Beyond the provision of clinical services, the department has always been proud to be a pioneer in paediatric surgical research, reflected not only in innovation and advances in the field, but also in publications and representations in the most important paediatric surgical journals and forums. We have a strong teaching culture for all levels of medical training and our department always attracts interns and fellows from all over the world