Midwives and maternity support workers in Manchester are celebrating having scooped the award for Midwifery Service of the Year at the Royal College of Midwives (RCM) annual awards.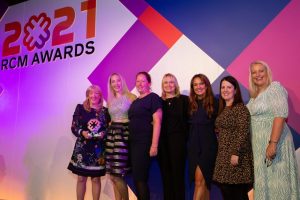 Musician and broadcaster Myleene Klass presented the Director of Midwifery, Kathy Murphy, and the team from Saint Mary's Hospital, part of Manchester University NHS Foundation Trust, with their award at a prestigious ceremony in London this week.
Staff health and wellbeing has been made a priority, with recognition by the Trust that well cared-for staff can deliver better care. Their 'What Matters to Me' initiative has embedded staff wellbeing throughout the service and created a culture where policies and guidelines to support staff have been developed in partnership between the maternity team, management and the Trust's HR team, reflecting and respectful of individuality and inclusivity.
Commenting, RCM's Chief Executive, Gill Walton said;
"This category is all about demonstrating a track record in innovation and improvement and awarded to services who have a high performing, caring staff culture, and champion safety and that is exactly what Kathy and the team have done. They value and invest in their staff and, in turn, those staff are absolutely committed to the women and families in their care. Never has this been more evident than over the past couple of years. The team has sought to keep services running as smoothly as possible and to reassure women at a really worrying time. They also look beyond the borders of their own Trust, supporting and informally mentoring newly appointed Heads of Midwifery across Greater Manchester and supported pregnant women from neighbouring services that were closed or suspended during the pandemic."
This winning midwifery team has shown its commitment to continuous improvement, developing new initiatives to support both women and staff. These have included a smoking cessation service that has supported over 1,000 women, and establishing a six-day-a-week midwife-led scanning service for women in their third trimester.
Kathy Murphy, Director of Nursing and Midwifery at Saint Mary's Hospital said: "We're absolutely thrilled to have received this honour, a testament to the incredible work our midwifery team do each and every day. It's of course been a challenging year for us all, and I'm incredibly proud of the way we've all come together for the good of the communities we serve. Thank you to the team at RCM for the kind recognition."
Cheryl Lenney, Chief Nurse at Manchester University NHS Foundation Trust said: "Saint Mary's Hospital is home to one of the largest midwifery teams in the country, all of whom are united in their dedication to providing the best care possible. Each year, the team support women to birth over 16,300 babies. I feel very proud of the team for achieving this well-deserved award."