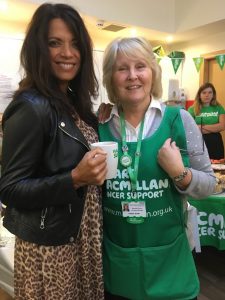 The brother of the late Manchester comedy actress Caroline Aherne joined TV presenter Jenny Powell and a band of Irish pipers to officially open the £320,000 new extension of the Macmillan Information and Support Centre at Wythenshawe Hospital. (Manchester University NHS Foundation Trust)
The ceremony was held to coincide with the centre's Macmillan World's Biggest Coffee Morning.
More than £4,500 was raised by staff, patients and families who attended the event or held smaller bake sales on the wards.
Macmillan Information and Support Centre Manager Debbie Smith said: "We were bowled over by the support from everyone involved. It was great to have our VIP visitors Jenny Powell and Patrick Aherne and the rousing sounds of the Wythenshawe Fianna Phadraig Irish pipe band.
"It was a fantastic day and an inspiring team effort. A huge thankyou goes out to all our  Macmillan team, our fabulous volunteers, our supporters and all of the Wythenshawe staff, patients, family and friends who supported the event."
Patrick Aherne said: "Caroline was supported by staff at this centre and by Wythenshawe Hospital's Macmillan nurses. I know she'd be delighted about the new extension because it means even more people can be helped by the amazing staff here."